Grab this great ebook for only $1.99! There are only a limited number of ebooks available at this price and then it goes up so grab it now! Use the code FEAST199 to get the discount.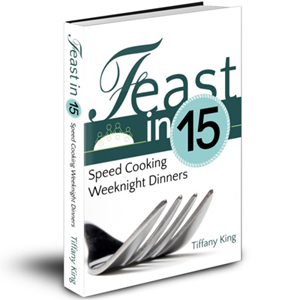 If you struggle with busy evenings you'll want to grab a copy of my friend Tiffany's book Feast in 15
. The book is filled with tips for getting on meals on the table fast!  Feast in 15 contains ideas for naturally fast foods, quick, healthy and easy to prepare sides, and over thirty recipes that take 15 minutes or less to prepare! In the back of the book you'll find grocery lists and menu plans for an two weeks of dinners.
Feast in 15 is available on the Feast in 15 website as a pdf download.