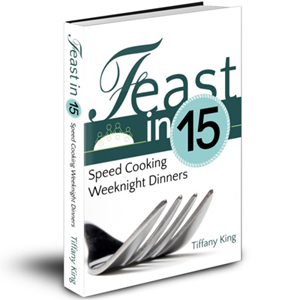 School is starting soon and evenings will soon be filled with homework, after school activities, and errands! I've found that the first few weeks of school are always hard on our dinner routine. In my house there is always a child who has trouble getting into a school routine and we end up schooling until dinner for the first few weeks.
If you struggle with busy evenings you'll want to grab a copy of my friend Tiffany's new book Feast in 15
. The book is filled with tips for getting on meals on the table fast!  Feast in 15 contains ideas for naturally fast foods, quick, healthy and easy to prepare sides, and over thirty recipes that take 15 minutes or less to prepare! In the back of the book you'll find grocery lists and menu plans for an two weeks of dinners.
This book is available on Amazon in Kindle
or you can purchase it directly from the Feast in 15 website as a pdf download.
I have two copies of Feast in 15 to give away to my readers. If you buy the book and then win the giveaway the purchase price will be refunded, no need to wait until the end of the giveaway! To enter leave a comment letting me know your dinnertime challenge. Giveaway ends August 4, 2011.