Download a free copy of The Cheese Lover's: 34 Easy Recipes with Cheese eCookbook from Mr. Food.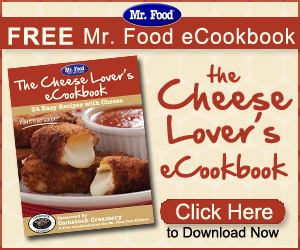 This free eCookbook is filled with 34 easy recipes made with cheese from cheddar to Gouda to the standby mozzarella and much more.  Cheese inspired recipes include goodies like these:
Baked Cheese Drops
Pepperoni Pie Squares
Potato Plank Bruschetta
Cheesy Hash Browns
Cheesy Herbed Mashed Potatoes
Mini Ham and Cheese Quiches
Spanish Cheese Tarts
Cheesy Stuffed Meatloaf
And, with your free copy of The Cheese Lover's eCookbook, you can also subscribe to the free Mr. Food Quick & Easy Everyday Cooking newsletter, which includes 6 weekly emails with free recipes, tips, and menu planning, access to their free recipe collection full of thousands of recipes from the Mr. Food Test Kitchen, and more!
Grab your free eCookbook and sign up for the cooking newsletter here.