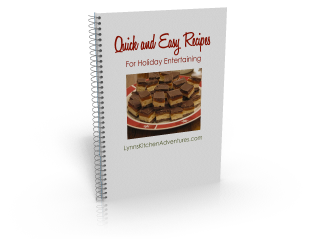 I'm sure many of you know my friend Lynn, who is the author of Lynn's Kitchen Adventures. She is an amazing cook, and I love trying her recipes. She has guested posted a few times on my site and is the creator of the very delicious whole wheat French bread roll recipe that my family enjoys.
Lynn has just released an ebook, Quick and Easy Recipes for Holiday Entertaining. Recipes include easy spiced nuts, oreo bark, homemade snickers bars, easy truffles, homemade mounds bars, rocky road candy, easy cheesecake and more. I'm sure these recipes will not disappoint, as Lynn is one of the best cooks I know.
You can get this 23 page ebook for FREE! Just head on over to Lynn's site for all the details.