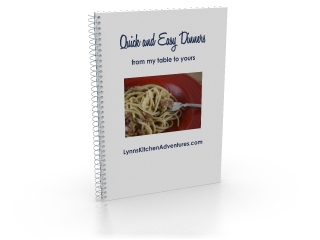 All of you who are participating in the Eat at Home Challenge need to grab this freebie!
"Like" Lynn's Kitchen Adventures on Facebook and get a free copy of her Quick and Easy Dinners eBook.
This ebook contains nineteen recipes to help you fix healthy home cooked meals for your family with out spending a lot of time in the kitchen. These are recipes that my family has been enjoying for years. There are family favorites and I hope they become favorites in your family also.
As I've said many times before I've never made a recipe of Lynn's that my family didn't love, so don't miss this freebie!