Carrie, from Grocery University, is giving away a 20 page sample of her amazing eBook resource, From Garbage to Gourmet!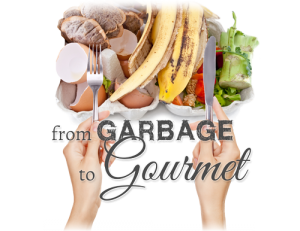 Most families throw away 25% of the food they buy every single week.  That means that for every $100 you spend at the grocery store, you likely throw $25 of it away. It's not just bread heels and moldy leftovers. There's a whole host of edible things that we automatically throw away, but that can be used to make delicious food!
From Garbage to Gourmet features over 80 recipes and creative ideas for using things like broccoli stalks, potato peels, carrot ends, herb stems, corn cobs, and more in dishes that are more than throw it all in a soup or casserole and be done! Recipes include:
Asian Broccoli Slaw
Poor Man's Apple Cider
Corn Cob Chowder
Chocolate Cheesecake Bites
Magic Hot Fudge Cake
Creamy Avocado Bacon Dressing
Chocolate Dessert Wontons
This full color magazine-style eBook also includes hundreds of strategies to help you prevent food waste and create delicious food out of things you normally throw away.  Learn how to keep berries from molding, what to do with the rest of a can of tomato paste, options for using wilted or frozen celery, preserving cheese so it doesn't spoil and more!
This week, you can get a FREE 20 page sample of From Garbage to Gourmet, and starting June 10th, you can grab it for 50% off at only $4.99!  So check out the free sample today, so you can be ready to get it for half off starting Monday!