Did you know the average family throws away 25% of the food they buy every single week? 25% folks! That's a lot of money going into the garbage can each week! If you struggle with using up all the food in your house and want to get back that 25% each week you'll want to grab a copy of my friend Carrie's latest eBook, From Garbage to Gourmet. 
From Garbage to Gourmet features over 80 recipes and creative ideas for using things like broccoli stalks, potato peels, carrot ends, herb stems, corn cobs, and more. Things that most people throw away without thinking about it, but can be used to make incredibly delicious food!
These aren't just "throw it in a soup" or "put all your leftovers together and call it a casserole" recipes – inside, you'll find recipes like:
Asian Broccoli Slaw
Poor Man's Apple Cider
Corn Cob Chowder
Chocolate Cheesecake Bites
Magic Hot Fudge Cake
Creamy Avocado Bacon Dressing
Chocolate Dessert Wontons
…to name just a few of the 80+ original recipes in this book.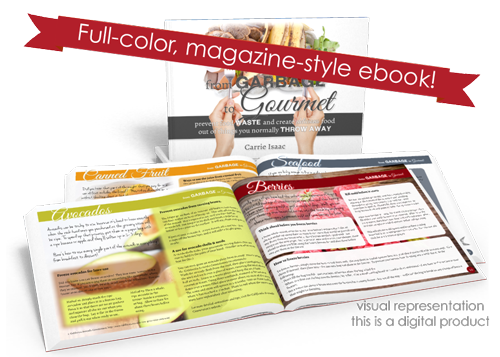 It's not just recipes: the From Garbage to Gourmetebook has hundreds of strategies to help you prevent food waste and create delicious food out of things you normally throw away.
Want to keep your berries from molding?
Don't know what to do with the rest of a can of tomato paste?
Think the only option for wilted or frozen celery is the trash can?
Constantly throwing away feta cheese because it's spoiled?
You need this ebook!
With grocery prices rising we need to do all we can to use up every bit of the food we buy. This week From Garbage to Gourmet is on sale for the next two days for only $4.99. The book contains 80 original recipes, full color, ingredient index, and printable recipe pages in the back of the book.
You can also get From Garbage to Gourmet
on Kindle (it should be on sale starting Wednesday) but it won't be as pretty as the pdf version and it won't have the printable recipes in the back of the book.
You might remember Carrie from her popular Grocery University program. From Garbage to Gourmet is another great resource that will help you waste less and save more.
The sale ends Thursday, so don't delay!