One day last year my kids finished lunch and asked if they could have a dessert. We don't normally eat dessert after lunch so I was a bit surprised by their question. But my kids are always looking for an opportunity, so they decided their chances of getting a dessert must have been better than most other days.
Seeing this as an opportunity to earn some mom of the year points, I responded with a yes. Of course I didn't really have any desserts in the house so I quickly scanned my fridge, freezer, and pantry for something fun that didn't require the use of the oven.
I found a container of COOL WHIP whipped topping in the fridge and a bag of blueberries in the freezer, problem solved.
Frozen Berry Treat
1/4 Cup Frozen Berries
1/4  Cup COOL WHIP Whipped Topping
Scoop 1/4 cup of COOL WHIP whipped topping into a bowl. Add 1/4 cup of frozen berries. Serve.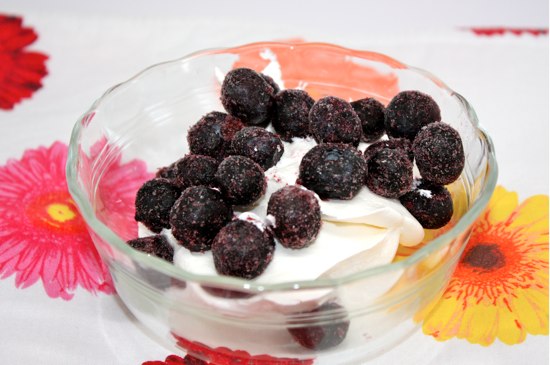 This simple dessert requires only two ingredients and it takes less than a minute to prepare! My children love this dessert and even tried mixing in several new berries they had shunned in the past.
They love the crunch of the frozen berries and when mixed in with COOL WHIP the frozen fruit turned into a special dessert.
We prefer blueberries, but I've also used frozen strawberries and mixed berries.
This summer when berries are cheap, stock up and freeze the extras. Your kids will love it when you surprise them with this simple dessert one hot afternoon this summer.
Now that I have shared a quick and easy dessert recipe, I want to know what are the go-to desserts you serve your family? Reply below for a chance to win a KitchenAid mixer from COOL WHIP to create even more wonderful desserts!
Visit the COOL WHIP Facebook page to see more recipes and to share your own COOL WHIP creations!
Sponsored posts are purely editorial content that we are pleased to have presented by a participating sponsor. Advertisers do not produce the content. Official Sweepstakes Rules.