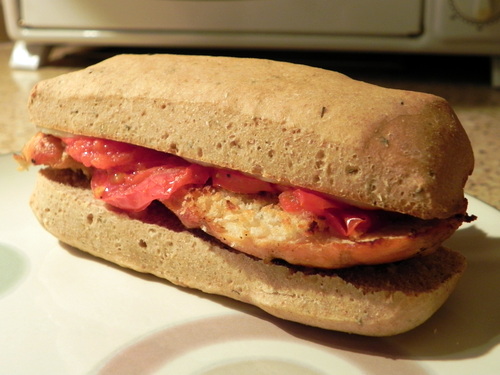 by contributing writer SnoWhite
Grill up some chicken and serve it as a Chicken Parmesan Sandwich for a fun summer supper.
Print
Grilled Chicken Parmesan Sandwiches
Ingredients
2 chicken breasts, halved
Olive oil
1 medium ripe tomato
1/2 cup tomato sauce
4 slices mozzarella cheese
Fresh spinach (optional)
2 tablespoons Parmesan cheese
Salt, pepper & dried basil, to taste
Instructions
Season your chicken with salt, pepper, and dried basil. Mist with olive oil.
Grill the chicken breast halves over medium heat for 10-15 minutes, turning 2-3 times. When chicken reaches 180 degrees, remove from the grill.
Slice the tomato, arrange it over tinfoil on a cookie sheet.
Sprinkle with salt, pepper and basil.
Broil under the broiler for 3-4 minutes until tomatoes are slightly caramelized. Remove from oven.
Place 1 piece of chicken onto half of each hoagie bun.
Arrange mozzarella cheese on the other half of the hoagie bun.
Place the hoagie buns on a cookie sheet, and broil until the cheese is melted.
Top with tomatoes, spinach (if desired), Parmesan cheese and tomato sauce.
Serve warm.
Notes
Serve with additional marinara sauce for dipping!