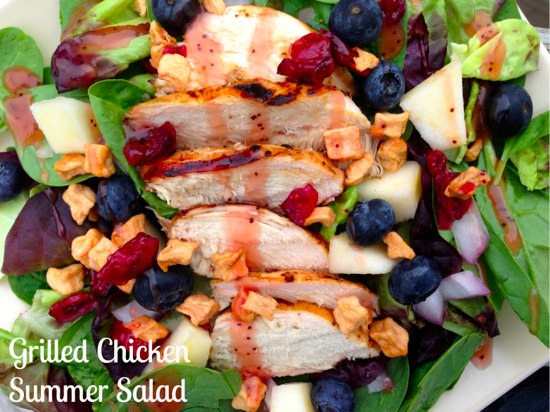 Recently we purchased a new grill for our home and I've become addicted to outside dinners. Since I can regularly get chicken breast for until $2 a pound around here I've been stocking up and we've been eating a ton of chicken!
My kids prefer the grilled chicken sliced without any addition of salad, pasta, or sides. My husband and I have become addicted to the grilled chicken salad. I've been experimenting with different ways to serve chicken over salad and last night I came up with a delicious new summer salad idea thanks to my NatureBox shipment.
My husband was so excited to try all the snacks I almost didn't have enough to make this delicious salad! The tangy fruit medley was a great addition to this salad and gave it just the kick it needed to make this a winning recipe at our house!
Print
Summer Grilled Chicken Salad
Ingredients
2 grilled chicken breasts
Spring mix salad
1 tart apple, chopped
1/2 cup blueberries
1/4 cup red onion chopped
Nature Box Tart and Tangy Fruit Medley
Strawberry vinaigrette
Instructions
Mix together all ingredients except chicken and dressing.
Lay sliced grilled chicken on top of salad mix.
Drizzle with strawberry vinaigrette dressing.
Serve.
 
You can try NatureBox and get 50% off your first box when you use the code SUMMERSNACKS.