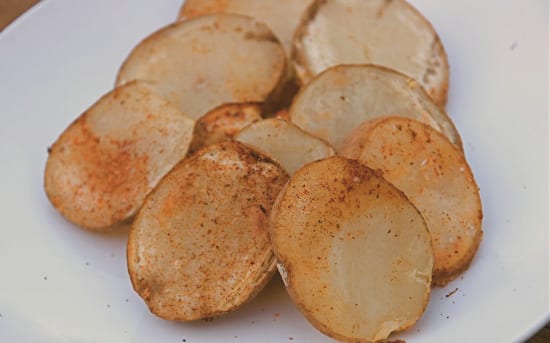 This is a simple and easy potato side dish that your whole family will love. If you purchase potatoes on sale this side dish costs only pennies per serving.
Print
Grilled Potatoes
Ingredients
Potatoes
Seasoning (McCormick's veggie seasoning, Emeril's Original Essence, or any combination of spices including garlic, paprika, salt, and pepper)
Instructions
Wash potatoes, then slice into 1/4 inch thick slices.
Boil potatoes for about 7 minutes. You want them to be soft, but not falling apart.
Drain water then place potatoes into a large bowl.
Coat with seasoning.
Place on the top rack of the grill, or turn the grill to low and place on the bottom rack. I found that tongs work better than a spatula.
Grill for 5 minutes on each side.
Remove from the grill and serve.
You can brush the potatoes with butter after grilling, but they taste good without butter as well.
Notes
They are slightly crispy on the outside, and potato-y on the inside. Yum!
Courses Side Dish