The following is a post from contributing writer SnoWhite.
Tossing veggies in a grill basket makes for a whole new set of flavors in your stir fry!  Use whatever veggies you have on hand – a great clean-out-the-fridge summer meal.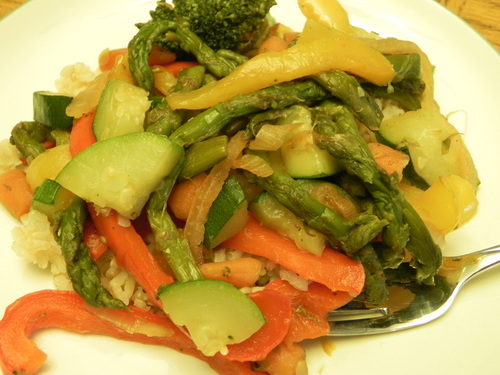 Print
Grilled Stir Fry with Roasted Red Pepper Sauce
Ingredients
1-2 tablespoons olive oil
4 cups broccoli florets
2 medium zucchini, sliced into thick coins
8 stalks asparagus, cut into 1-inch pieces
2 medium bell peppers, sliced into thin strips
1 sweet onion, sliced and separated
4 cups cooked brown rice
1/4 cup Roasted Red Pepper Italian Dressing (we used Kraft)
Instructions
Pre-heat your grill to medium heat.
Begin by preparing the veggies. If you use frozen, thaw first.
Toss the veggies with olive oil.
Place the veggies in a grill basket or onto foil designed to set on your grill grates.
Set the veggies on the grill.
Cook for 10 to 15 minutes, turning the veggies frequently until crisp tender.
Warm the 1/4 cup salad dressing on the stove top or in the microwave.
Remove the veggies from the grill and toss with dressing.
Serve atop cooked brown rice.
Find more delicious meal ideas at the The Happy Housewife Recipe Index.