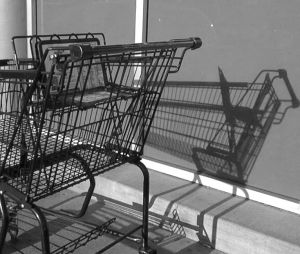 I have to say I am so proud of our Grocery Budget Makeover participants. Thanks to your awesome advice and their smart shopping they are doing great, even beter than I expected. Unfortunately Jamey had to withdraw from the challenge due to an unforeseen family emergency.
Susan's Update
Week 1 Goal: $150

Amount Spent: $92.40

Summary: Lots of things went right for me this week. I paid in cash and came in well under my budget amount.  A menu was posted on the fridge, so no one asked what was for dinner. I'm also trying to make some prepackaged foods from scratch for the kids.
Lauren's Update:
Week 1 Goal: $115

Amount Spent: $116.11

Summary: We shopped at Aldi, Walmart, and Harris Teeter. We tried too hard to reduce our budget and we ended up eating out a few times because  there was literally nothing in the house, not even oatmeal. This is reflected in our amount spent this week. We need to come up with a better plan for lunches since we ended up fixing a couple our of dinners for lunch. We ate almost all the meat we had stocked up so I'm nervous to see how the next week goes since there are no good meat sales this week. Going to start our price book this week.
Hawk's Update
Week 1 Goal: $100

Amount Spent:$94.37

Summary: Week one was a litle smoother than I thought it would be. I listened to the Grocery University again and couponed for the first time in ages. I will say I did not stick to the whole foods aspect the first week with the boys, so there were coupons I could actually use. Next week I hope t get back to healthier food but also keep in mind that sometimes cooking "semi homemade" is just as good.
I think our families are on the right track with the challenge. They are making important changes in their shopping habits and it is saving them money. My advice for them this week is to keep up the good work and consider some meatless meals. We eat meatless meals a few times a week and it really helps keep our grocery budget manageable. This would work especially well for Lauren's family since they ate almost all their meat in the first week.