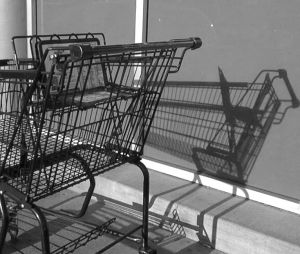 Meet our next Grocery Budget Makeover family. Hawk's family of two lives in Kentucky and spends about $450 a month in groceries. They shop at Kroger twice a week and do not use coupons.
Here is more from Hawk.
A grocery makeover is something we have been trying to accomplish for a long time on our own.  We are newly married and trying to start our family through adoption (our only option).  We would like to make our adoptions debt free, but in order to do that we have to save the money.  I started my own business in Feb of 2010, during the downturn of the economy, so my income is very spotty.  My husband works full time and I feel like he is running himself to an early grave because of our adoption goals.  Spending so much for food with just the two of us is crazy!  I have tried paring down food options, but I firmly believe in making everything I can from scratch.  Unfortunately it seems to cost us more money doing it this way, and I can't understand why.  I need a grocery makeover so that we can make our goal having a family a reality.
I applaud Hawk's family for their debt free adoption goal. If you have advice for Hawk or shop at Kroger and can give some Kroger shopping tips please leave them in the comment section.