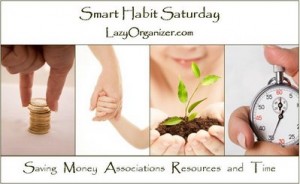 My smart habit this week is healthy eating. To be honest, I was never an unhealthy eater, I don't care much for fast food, and I don't have a sweet tooth, but I didn't eat really great stuff either. A few weeks ago a typical lunch for me would be a sandwich, chips and soda. Not terribly healthy.
Since I have given up soda, my taste buds have changed. I have always liked fruit, but I never loved it. Now that I am not drinking the syrupy sweet stuff, fruit tastes delicious! I actually crave it!
The other problem I had with eating healthier is that it didn't seem fun. I mean it is fun to tear into a bag of doritos and pop open a soda. Peeling an orange… not so fun. The past few weeks I have tried to make healthy food that looks great and tastes great too.
Now my typical day goes like this.
Breakfast: One of the following; Grape Nuts, Cheerios with sliced bananas, whole wheat bagel, whole wheat pancakes, with a glass of orange juice.
Lunch: Smoothie (strawberry, orange, pineapple, and spinach), salad, or tuna salad sandwich on w/w. I will grab an apple if I am still hungry.
Dinner: I have started to make healthier meals. You can view one of my menu's here.
I try really hard to make my food look good, because then I am more likely to eat it and like it. I know that sounds weird but that is just how I am!
Doesn't this just make you want to have a salad for lunch?
Laura at Heavenly Homemakers has really motivated me to up my servings of fruits and vegetables. My goal is 6 servings a day. I checked out the serving sizes and I think this week I probably averaged about 5 servings a day. I am doing better than I was a few weeks ago, but I still would like to improve.
My healthy eating is also motivated by my garden. If it succeeds I will have more fruit and veggies than I know what to do with. Currently I have over 60 tomato plants that have sprouted! I guess one of my future smart habits will be learning to can!
Check out Lara's blog for more Smart Habit Saturday!