I met the folks from International Delight at my conference last year, The Savvy Blogging Summit. Throughout the event they had a table set up in the hallway with all their different creamers and ice coffees. Let's just say we didn't have to worry about people getting drowsy during the sessions last year!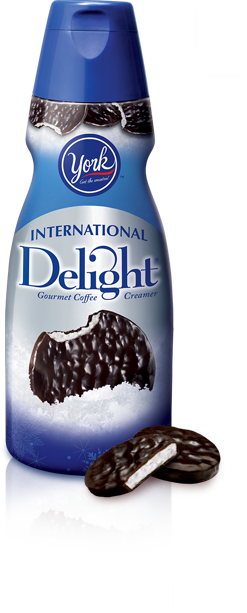 I couldn't believe how many fun flavors they had and how much everyone enjoyed them! This year when I hosted a group of teenagers for the week, I made sure to add International Delight creamer to my shopping list for their morning coffee. I've learned that high school and college age kids love coffee and what better way to treat them than with some delicious creamer.
When I got a chance to find my flavor ID I wasn't a bit surprised to learn that it was York Peppermint Pattie. I've loved Peppermint Patties since I was a kid and my kids love them too. My mother-in-law use to keep a big bowl on her coffee table and I knew my kids would eat the whole thing if I didn't put it away shortly after our arrival.
International Delight has come up with a fun way to share and connect with other ID fans with their "What's Your ID?" campaign! With what's your ID, login with your Facebook account, choose your favorite International Delight Flavor, and it "pins" your taste profile to the map! I wasn't surprised to see my favorite flavor "pinned" all over the United States, because it is the best! 🙂
When you visit What's Your ID? you be able to enter to win lots of awesome prizes like:
 Magical Trip grand prize – ID Coffee Mugs, Tumblers and Creamers
Visa gift cards – ID Re-Usable Grocery Bag
Cold Stone gift cards – Beach towels
Free ID for a year
Baking Kit: Kitchen Aid mixer, apron and coupons
Coffee Bar Kit: Kuerig Coffee Maker, Folgers K-cups, coupons, mug, and Cinnabon Cinnamon
My family might not agree with me, since ID has a pumpkin spice flavor which is sure to be a hit in my pumpkin pie loving household.
Just for fun I put together a flavor inspiration board on Pinterest. Not only does it have several very delicious peppermint recipes on it, it also has some peppermint inspiration for my house. Since I'm in the middle of a home remodel I thought it would be fun to find some paint and furniture inspiration that reminds me of one of my favorite flavors.
What's Your ID? International Delight is looking for their most passionate flavor fans. Put your ID on the map to enter to win a Magical Trip, play games and discover more unexpected delight. Share your ID flavor at http://whatsyourid.com. 
This is a sponsored conversation written by me on behalf of International Delight. The opinions and text are all mine.