Don't forget to enter our giveaway for the cookie kit!
Have you ever hosted a holiday cookie exchange? I host or attend one almost every year. I love them for so many reasons, getting together with friends, baking, and of course coming home with tons of different types of cookies that I didn't have to bake!
My kids participated in a cookie exchange for their youth group this week and came home with two bags of cookies!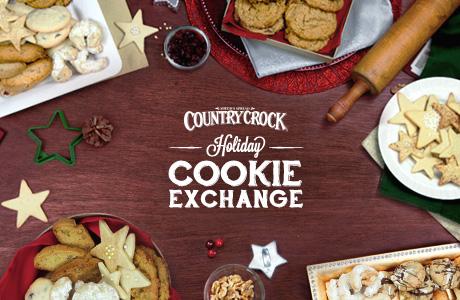 This is a great way to fill your home with delicious cookies without all the work. Whether you are hosting or attending a cookie exchange here are a few tips.
Invite a lot of people.
With the holidays many people have very busy schedules with office parties, school events, and recitals. You'll probably only have half the people you invite able to attend. And even if everyone else shows up, that just means you'll have more cookies!
Remind everyone to bring the recipe card for their cookie or email you their recipe ahead of time.
If you have a copier in your home you can make copies of each recipe for your guests so they can take the recipe home with them and recreate all the delicious recipes.
Also make sure you let people know how many cookies to bring to the party. A good recommendation is double the number of guests at the party. So if 20 people are attending the cookie swap ask people to bring 40 cookies. That way there are plenty of cookies to eat while the party is going on.

Find/ buy containers for people to use to take home their cookies.
I've always used shirt boxes (which can be free if you save them from gifts) or purchase them at Target, Walmart or the Dollar Store. Many people will have a container already since they brought cookies, but have a few extra just in case.
Print cookie cards.
If you aren't sharing the recipe, at least share the name of each cookie. Ask your guests to tell you ahead of time what cookie they will be bringing so you can make cute cards for each set of cookies.
Here are two recipes for delicious cookies that can even be made ahead of time.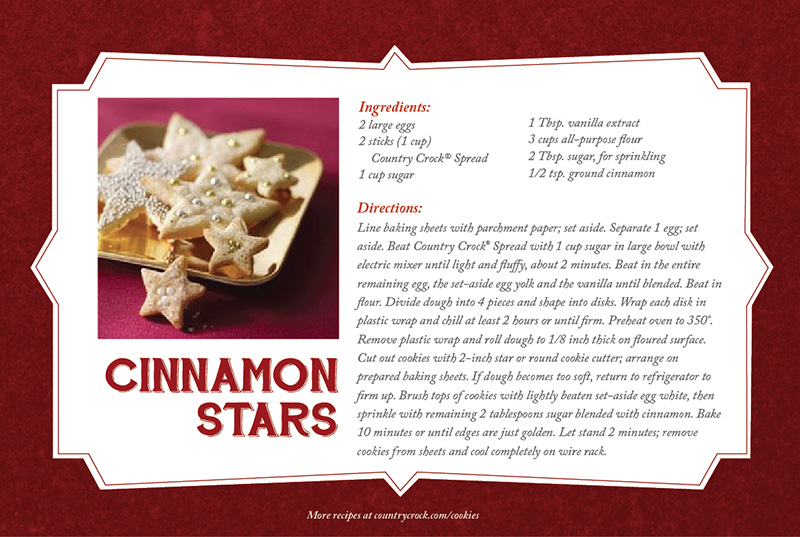 Print
Cinnamon Stars
Ingredients
2 large eggs
2 sticks (1 cup) Country Crock® Spread
1 cup sugar
1 Tbsp. vanilla extract
3 cups all purpose flour
2 Tbsp. sugar, for sprinkling
1/2 tsp. ground cinnamon
Instructions
Line baking sheets with parchment paper; set aside.
Separate 1 egg; set aside. Beat Country Crock® Spread with 1 cup sugar in large bowl with an electric mixer until light and fluffy.
Beat the entire remaining egg then set-aside egg yolk and the vanilla until blended.
Beat in flour.
Divide dough into 4 pieces and shape into disks.
Wrap each disk in plastic wrap and chill for 2 hours or until firm.
Preheat oven to 350 degrees.
Remove plastic wrap and roll dough to 1/8 thick on a floured surface.
Cut out cookies with 2-inch star or round cookie cutter; arrange on
prepared baking sheets.
Brush tops of the cookies with the remaining egg white.
Sprinkle with remaining 2 tablespoons sugar blended with cinnamon.
Bake 10 minutes or until edges are just golden.
Let stand 2 minutes; remove cookies from sheets and cool completely on wire rack.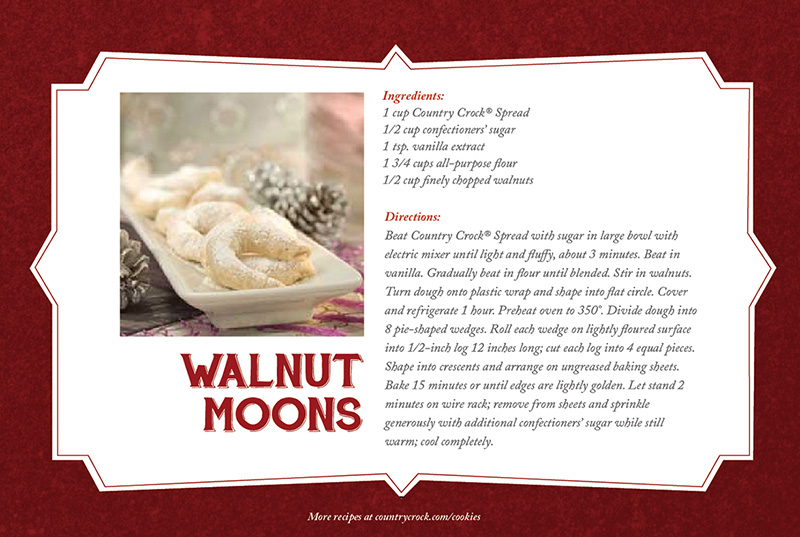 Print
Walnut Moons
Ingredients
1 cup Country Crock® Spread
1/2 cup powdered sugar
1 tsp vanilla extract
1 3/4 cup flour
1/2 cup finely chopped walnuts
Instructions
Beat Country Crock® Spread with sugar in large bowl until light and fluffy.
Beat in vanilla.
Gradually beat in flour until blended.
Turn dough onto plastic wrap and and shape in a flat circle.
Refrigerate 1 hour.
Preheat oven to 350°.
Divide dough into 8 pie shaped wedges.
Roll out each wedge on a lightly floured surface into 1/2-inch log 12 inches long;
Cut each log into 4 equal pieces.
Shape into crescents and arrange on ungreased baking sheets.
Bake 15 minutes or until edges are lightly golden.
Let stand 2 minutes on wire rack.
Remove from sheets and sprinkle generously with additional confectioners' sugar while still
warm.
Cool completely
You can join the fun cookie fun if you when the Country Crock Holiday Cookie gift pack giveaway. To enter leave a comment sharing your favorite cookie. For an additional entry tweet your favorite cookie using the hashtag #CountryCrockCookies.
Giveaway ends December 24, 2013.
You can find more cookie inspiration on Country Crock's social channels.
I've partnered with Country Crock for this campaign. All opinions and flour covered kitchens are my own.