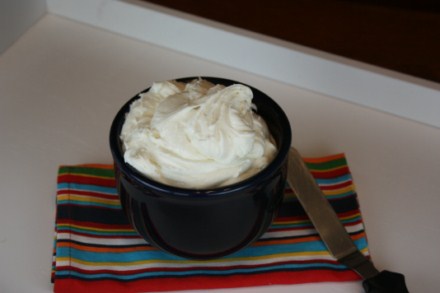 The following is a guest post from my friend Lynn who shares family friendly recipes at Lynn's Kitchen Adventures.
I love homemade frosting. It is so easy and so much better than the kind that comes in a can at the store. If you have never made homemade frosting you really should give it a try.
What I love about homemade frosting is that you can take a simple box cake mix or homemade cake and make it special with homemade frosting. You can always tell a box cake and canned frosting, but if you take a box cake and use homemade frosting it makes the whole cake seem homemade. Homemade frosting takes it to a new level that canned frosting just does not do.
I make homemade frosting all the time. I have a chocolate frosting, a cream cheese frosting, and a honey frosting that I love, but sometimes I like to change things up and make something different. This marshmallow cream frosting recipe is perfect for times like that. This frosting would work well for just about any cake or cupcake. It would go well with a chocolate cake, a white cake, and even a carrot or zucchini cake.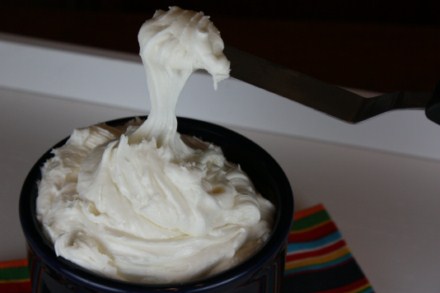 This recipe is based on a recipe by Paula Deen. A few months ago my daughter was sick and I asked her what she wanted to watch, she said a cooking show. Yes, she is my daughter after all.
So, I turned on the Food Network to see what was on, and Paula Deen was on. My daughter was so glad that she was able to watch the Paula Deen show. TV is a treat in our house, so yes Paula Deen is exciting to my ten year old.
Paula Deen was making a dessert on the show and the frosting that went with the dessert contained marshmallow creme. Well, I instantly knew I had to try some marshmallow creme in my frosting. Leave it to Paula to take frosting to a whole different level and add marshmallow cream. This is so not healthy, but it is oh so good!
Print
Homemade Marshmallow Creme Frosting
Ingredients
7 ounces marshmallow cream
1/2 cup butter softened
1 teaspoon vanilla
3 1/2 cups powdered sugar
1-2 tablespoons milk
Instructions
Mix all ingredients together until smooth. I beat this for several minutes.
Use to frost cupcakes, cakes, and other desserts.
Lynn is a busy homeschooling mom who lives in northeast Oklahoma. She loves to cook and spend time in the kitchen. She writes at Lynn's Kitchen Adventures where she shares recipes, kitchen tips, and quick and easy ideas to make your life in the kitchen easier. She also has an allergy section where she shares recipes and tips for dealing with a food allergies.