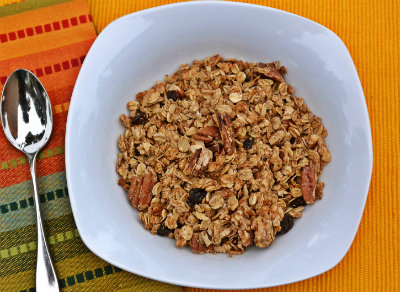 By contributing writer Andrea Green.
During the fall, I can't get enough of flavors like pumpkin spice, so I make this recipe for homemade pumpkin spiced granola almost weekly.
It's easy to make it each week and never be bored because you can change up the recipe. For example, try substituting dried cranberries for the raisins. Or add pepitas and sunflower seeds in place of the pecans. In fact, I'd encourage you to use a combination of whatever nuts, seeds and dried fruits you have on hand!
Everyone in our family has a different way they like to eat granola. One likes it mixed in with Greek yogurt. Another favors it with milk. And we all will pour a handful and eat it dry every time we pass the jar. My advice to you? If you do eat it with milk, forget what your mother says. Drink the milk out of the bowl. So good.
Oh! And don't forget my favorite way to eat homemade pumpkin spiced granola: sprinkled over vanilla ice cream.
Print
Homemade Pumpkin Spiced Granola
Ingredients
4 cups rolled oats
1 1/2 cups pecan pieces
1 cup raisins
1/3 cup butter
1/2 cup maple syrup
1 tablespoon homemade pumpkin pie spice or store bought
Instructions
Preheat the oven to 300 degrees.
In a large bowl, combine the oats, pecans and raisins. Set aside.
In a small saucepan, melt the butter. Add the maple syrup and pumpkin pie spice and stir until well combined.
Pour butter mixture over the oats and stir until all ingredients appear wet.
Spread in a 15 x 9 jelly roll pan.
Bake for 40 to 50 minutes or until granola appears lightly browned.
After your granola has cooled, make sure to store in an airtight container. This recipe makes granola that is well suited to eating like cereal. However, if you prefer your granola to "clump", double the amount of butter and maple syrup. Please note: Adjusting the recipe will alter the cooking time. Check it after 50 minutes but be prepared to add additional cooking time.
Find more delicious meal ideas at the The Happy Housewife Recipe Index.