A reader asked how long frozen pumpkin lasts on my how to cook a pumpkin post and I figured if one person asks there are probably ten more who are wondering but don't ask.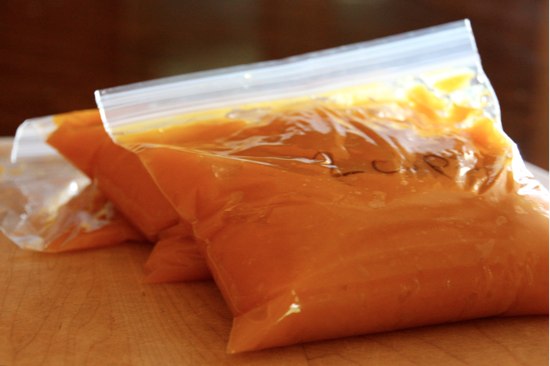 As I said in the pumpkin post, I freeze my pumpkin in Ziploc bags, but I always use it within a month. If you are planning on storing for a longer period of time I would recommend storing in food saver (sealer) or freezer bags.
Most people say that frozen pumpkin (made from fresh pumpkin) lasts about one year before it starts to affect the taste of your baked goods. I've read about people using it up to two years after being frozen, although I wouldn't.
I also read that people don't like to use pumpkin that has been frozen for a long time in pies because it is too watery, but it works great in breads, muffins, pancakes, etc… I think using my crock pot pumpkin method might solve the water problem, but I've never tried it to be sure.
Do you freeze your pumpkin puree' and if so, for how long?