Do you love pumpkin? Subscribe for free email updates and don't miss a pumpkin recipe!
Do you know how to cook a pumpkin? I didn't until a few years ago when stores started running out of canned pumpkin around Thanksgiving. I did some research and realized that cooking a pumpkin is actually quite simple and you can freeze the cooked pumpkin for long term storage.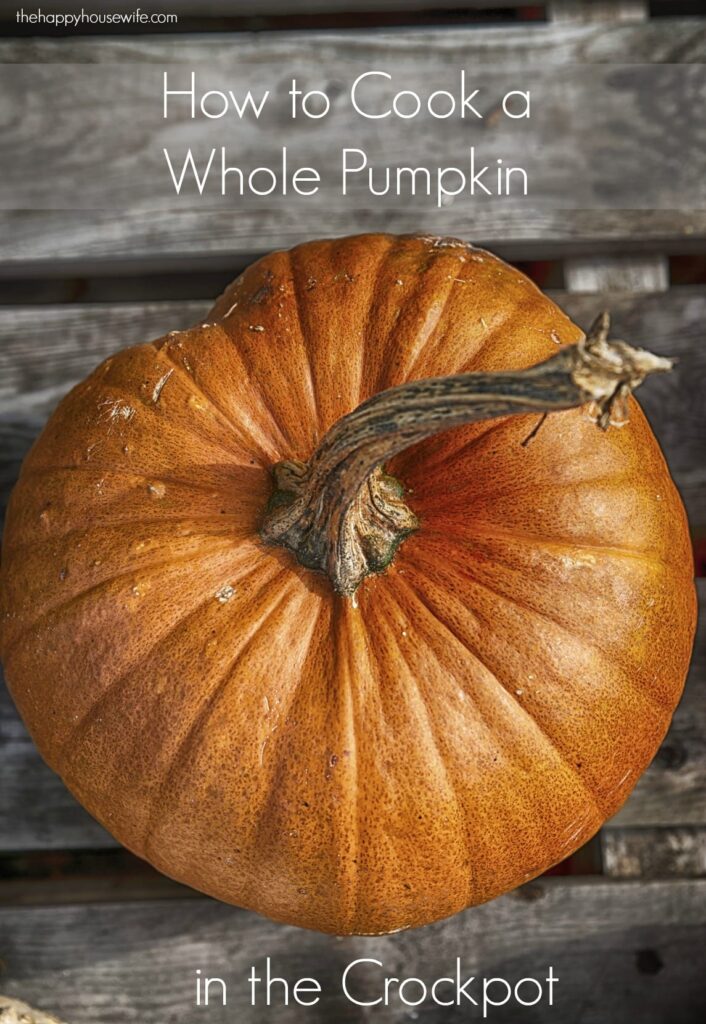 Since I live in Florida and didn't want to turn on my oven in the 90+ degree heat I decided to try cooking a pumpkin in a crock pot. I searched the internet and was surprised that I couldn't find any tutorials for cooking a pumpkin in a crock pot. Always one to experiment in the kitchen, and having an extra pie pumpkin on hand just in case the crock pot pumpkin experiment went totally wrong, I decided to try it anyway.
All you need to cook a pumpkin in a crock pot is a pie pumpkin (these as smaller than the "jack-o-lantern" type pumpkins ), a crock pot and water.  I cannot stress enough that this needs to be a pie or sugar pumpkin. There is a difference between pie pumpkins and carving pumpkins. The pie pumpkins will be located by the squash and gourds in the produce department at your grocery store.
Wash the outside of your pumpkin with soap and water. Since the outside of the pumpkin will be touching the inside of the pumpkin while cooking you'll want to make sure you've removed all the dirt from the outside before you cook it.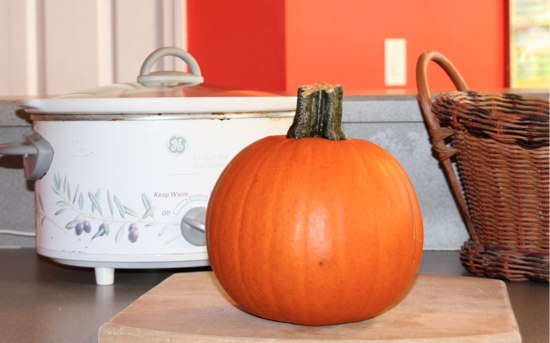 Take the pie pumpkin and cut it in half. This is the most difficult step in the process because pumpkins are not easy to cut! You'll want to use a serrated knife and use a sawing motion to cut the pumpkin in half.
I like to skip this step by purchasing a smaller pumpkin that I can fit in my crock pot without cutting.
If you have a small pumpkin and a large crock pot you can put the entire thing in the crock pot and cook it whole. This is actually easier and safer since you don't have to saw the pumpkin in half.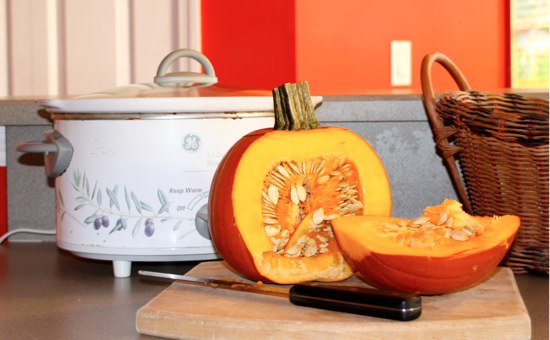 Once you've cut the pumpkin in half remove all the seeds and the stringy stuff inside the pumpkin. I usually take a sharp paring knife around the inside of the pumpkin and slice off the strings and seeds but you can also use a spoon or ice cream scoop to remove the innards. 🙂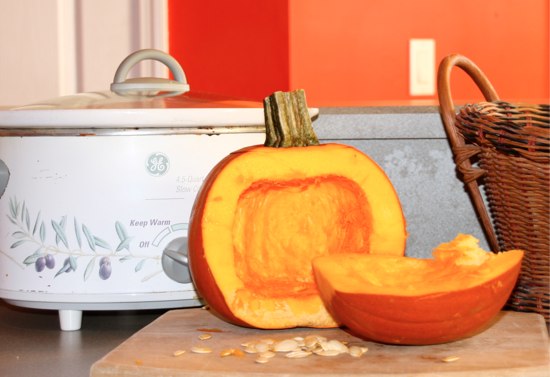 After you've removed the seeds and strings you'll want to cut your pumpkin in a few smaller pieces. How many pieces depends on the size of your crock pot. The larger the crock pot the fewer the pieces.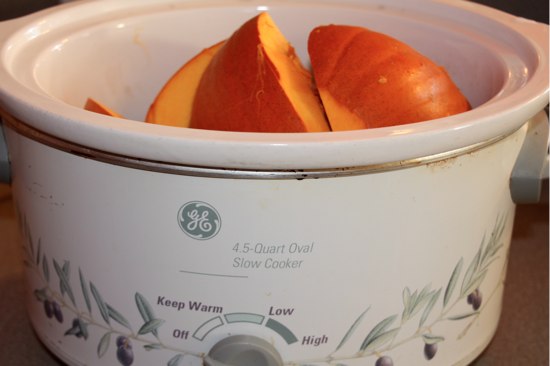 Place the cut pumpkin in the crock pot and add about one cup of water. This also depends on the size of your crock pot. You'll want to make sure you have enough water in your crock pot to cover the bottom with about 3/4 an inch of water.
Turn the crock pot on high and cook for about four hours. If your crock pot runs hot you might want to use the low setting and cook for a bit longer.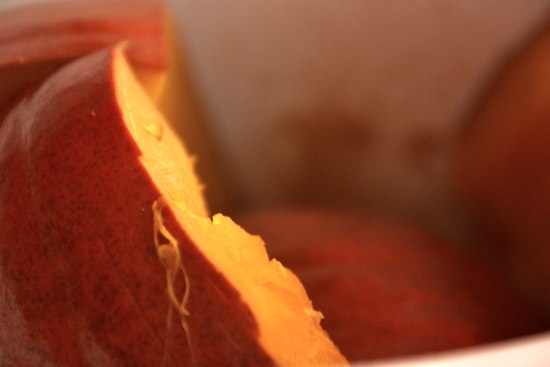 You'll know the pumpkin is finished cooking by sticking a fork into the flesh and gently pulling away from the skin. If it "falls off" the skin it is finished. If not cook for a little longer.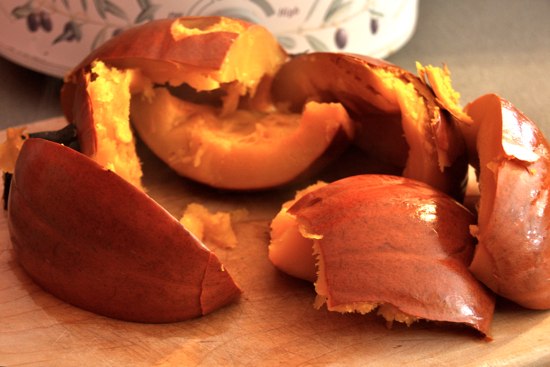 Remove the pumpkin pieces from the crock pot and let cool for a few minutes. Then using a spoon, scoop the pumpkin out of the skin. If your pumpkin has cooked long enough it should be very easy to remove.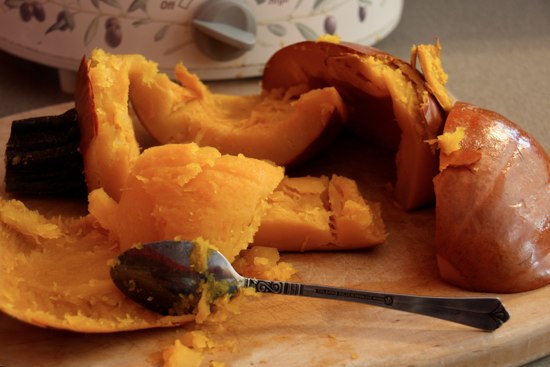 Let my pumpkin cool completely then puree it in the blender.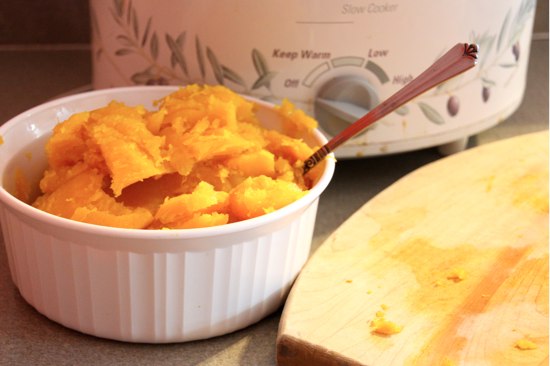 I used Ziploc bags to store the pumpkin. I put two cups of pumpkin in each bag.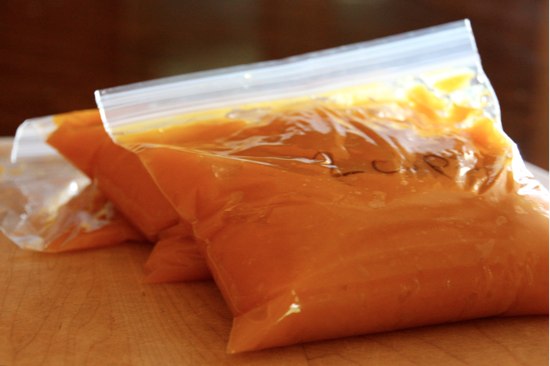 You can store your pumpkin in the refrigerator for a few days or freezer for long term storage.
The benefit of cooking your pumpkin in the crock pot is that it doesn't absorb much, if any, of the water, so it isn't watery after cooking. It also doesn't heat up your kitchen, which is a benefit to those of us who are still looking at 90 degree weather.
I paid $0.99 a pound at the commissary for my pie pumpkin. I was able to get 4 1/2 cups pumpkin from a 5 pound pumpkin. So my cost was $1.10 per pound of pumpkin. Depending on where you live this could be more expensive than canned pumpkin, but many people prefer the taste of fresh pumpkin for baking.
Pumpkin is really good for you, loaded with beta carotine and potassium as well as fiber it is a great food to add to your favorite recipes. Below you will find some of my favorite pumpkin recipes.