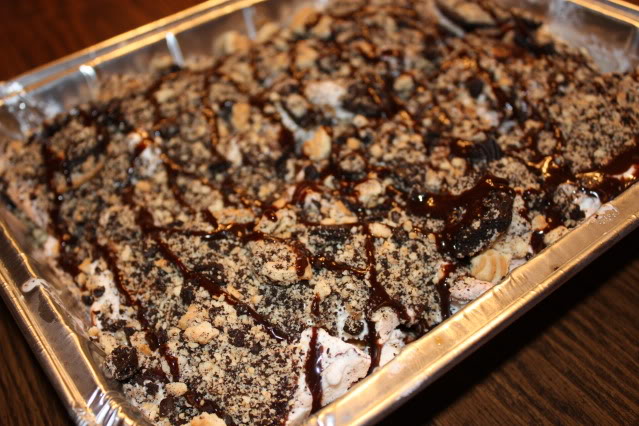 Print
Ice Cream Cookie Cake
This cake is an easy twist on the traditional ice cream cake. It's a simple ice cream dessert that can be prepared in less than ten minutes and will be loved by the whole family.
Ingredients
Ice Cream
Cookies (Oreos or something similar)
Chocolate Syrup
Instructions
Crush cookies with a rolling pin.
Sprinkle them on the bottom of a 9×13 pan.
Open container of ice cream flat and slice the ice cream.
Place slices on top of the crushed cookies in a single layer...
until completely covered.
Pour chocolate syrup on ice cream. Repeat.
After the second layer of cookies/ ice cream/ chocolate syrup, top with crushed cookies.
Finally, drizzle chocolate syrup over the cookies. Place in freezer to set.
Notes
This recipe is great because you can vary it to suit your tastes. Use any ice cream and cookie combination you prefer. You can also add a layer of whipped cream or use caramel or strawberry syrup instead of or in addition to the chocolate.