When I got in the car today to run an errand the thermometer read 95 degrees. I am sure if you live in the south it is even hotter. I know that when my house is hot I don't feel like cooking and there is a huge temptation to eat out or get take out.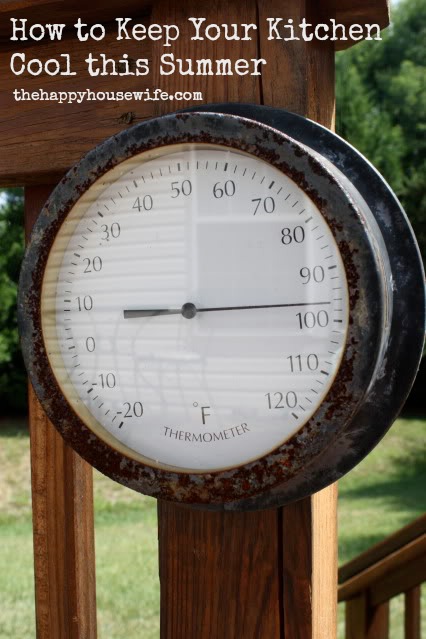 When I have to turn my oven on in an already hot house, I am ready to give up. Limiting your oven use in the summer can save you money.
Here are some tips to keep your kitchen cool during this hot summer.
Use the grill– During the summer time plan meals that use the grill instead of the oven. Hamburgers, hotdogs, kabobs, chicken, fish, steak, potatoes, vegetables, you can cook almost anything on your grill.
Use your crock pot– Here is a little crock pot trick. If your crock pot is heating up the kitchen put it outside (in the shade) or in the garage.
Make skillet meals – Pasta, rice, and beans are all made on the stove top. Cook these items and throw in some meat from the grill. Quesadillas and grilled cheese are easy meals and can be served with fresh fruit.
Once a week baking – I try to have one day a week that I use my oven for several hours. I make bread, muffins, bagels, cookies, and make ahead any meal items for the week. That way I only heat up my oven and my house once a week.
Use your breadmaker- If you don't do a lot of bread baking, bake your occasional loaves in the bread maker.
Consider the where the sun sets on your house – Use your oven either in the morning or the evening, depending on when your kitchen is cooler. In our old house, the sun set on a huge bay window in our kitchen. I tried to use my oven in the morning to minimize the effects of the afternoon sun.
Solar Oven- I think we all made one of these in girl scouts, but this has become one of my husband's dream projects. From what I have read they really do work, and the food tastes pretty good. My only complaint, what will the neighbors think? I mean we already have 7 bikes, 3 scooters, 4 nerf guns, 2 soccer balls, a pair of shoes, one glove, and a crock pot in our front yard. Do we need to add an oven?
Eat salads, smoothies and cereal– It is okay to get creative with dinner. On really hot days make a hearty smoothie and pop some popcorn. This is much healthier than eating out, and you will probably win mom of the year.
Here are some recipes to help you get started.
Our meal from last night was oven free…
Grilled chicken legs, steam broccoli, sweet potatoes (on the grill) and rice. This meal was easy, healthy, and the kids loved it.