When I was a child one of my favorite meals was grilled cheese and tomato soup. My mom would take two pieces of bread, lightly butter the outsides, and place a piece of cheese in the middle. I loved my grilled cheese sandwiches.
Then one summer I stayed at my Grandma's house for a few weeks by myself. She asked me what I wanted for lunch and I requested my favorite, grilled cheese and tomato soup. I stared in awe as she got out the Kraft cheese, buttered both sides of the bread, placed several slices of cheese between the bread and grilled up one of the best sandwiches I'd ever eaten in my life.
My Grandmother passed away twenty years ago and my memories of eating grilled cheese at her house are some of the fondest I have of my time with her. One slice of cheese was never enough for any sandwich, you always needed at least two or three according to my Grandma!
To this day (and probably because of all those grilled cheese made with love from my Grandma) I still love a delicious grilled cheese sandwich made with Kraft Singles served with a bowl of soup.
A few years ago I received a panini maker and ever since my family has loved making panini's for lunch and even dinner. Grilled cheese just got a whole lot better! Last summer when my mother-in-law was babysitting for us she skipped dinner plans almost every night in favor of making more panini's! Panini sandwiches have become one of our favorite "go-to" meals.
Below is one of my favorite panini recipes.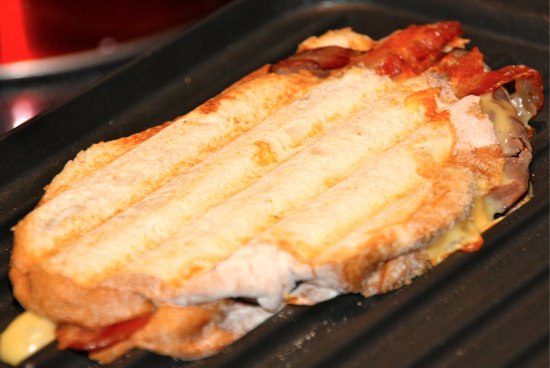 Hearty bread
Kraft Singles (made with real milk)
Bacon
Roast Beef
Sliced Dill Pickles
Spicy Mustard
I layer all the ingredients and cook on the panini grill for a few minutes. I love how the cheese melts and the spicy mustard is the perfect touch for the sandwich. We usually serve our panini's with fresh fruit, vegetables, and sometimes potato salad if I'm getting fancy!
My kids prefer basic grilled cheese made with Kraft Singles, although I often convince them to add a little ham to spice it up! 🙂
While I don't travel with my panini maker I do like to bring sandwich fixen's when we are on the road. I love that Kraft Singles are individually wrapped because it makes for a quick snack on the road or in the hotel room.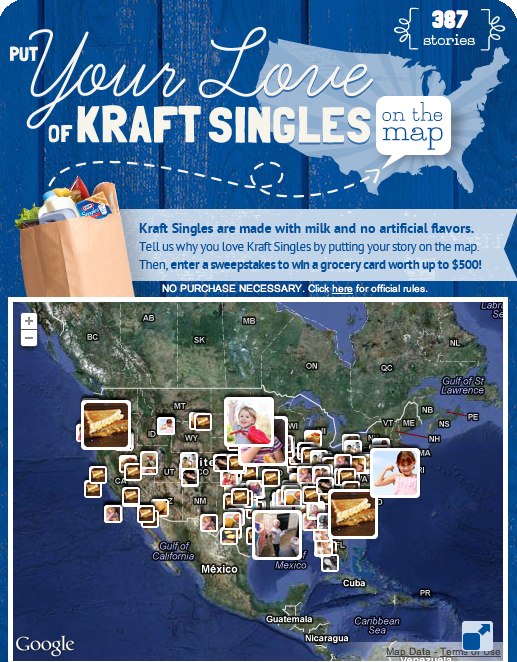 Currently you can enter Kraft Singles Sweepstakes on Facebook by sharing your favorite thing about Kraft Singles. Maybe it's that they are made with real milk, that they don't contain artificial flavors, or maybe you just love the taste! Anyway, just enter your favorite thing about Kraft Singles and you'll be entered to win $500!
That's not the only way you can win. Kraft Singles is giving away a grilled cheese kit to one of my readers! Since I love Kraft Singles in my panini's I was able to get one of these kits for you.
One reader will win:
Panini press
Spatula
Cookie cutters
Coupon for Kraft Singles
To enter the giveaway leave a comment sharing why you love Kraft Singles. You can earn additional entries for "liking" Kraft Singles on Facebook or Tweeting about this giveaway. Giveaway ends February 13, 2012.
Remember, when you are making Kraft Singles grilled cheese sandwiches this week, use a cookie cutter or a knife to turn your sandwiches into hearts! It's a perfect Valentine's Day treat!
Your kids will love it!
Kraft Foods is providing the prizes for this program at no cost to me. This program is not administered or sponsored by Kraft Foods or its affiliates, but solely by The Happy Housewife. I am one of several bloggers selected by Kraft Foods to participate in the KRAFT Singles "Put Your Love on the Map" program. While I have been compensated for my time, my opinions are my own, and I have not been paid to post positive comments.