Did you know that May is National Fitness Month? I'm excited to get another renovation project finished and set up our workout room in the garage. I miss having our basement gym in Maryland, but I know our garage gym will be great when it is finished!
While working out is a big part of getting fit, you can't exercise your way to a healthy life. What you eat matters! Many people believe that a healthy lifestyle is 80% diet (what you eat) and 20% exercise (what you do).
A few months ago when we did our no sugar challenge one of the biggest challenges you had was your morning coffee! Many of you could not drink it without something to make it sweeter. In fact, that was the biggest stumbling block for most coffee drinkers!
I've come to find out that it is the little victories that help keep me motivated to continue making positive changes in my health. I know that many of you NEED that morning cup of coffee (or two), but don't want all the calories! Replacing sugar with Pure Via® non- GMO sweetener is a great way to get the same tasting coffee you love, without all the calories you don't love!
This month the folks at Pure Via® sent me some all natural Stevia sweetener to try.
One packet of Pure Via® is equal to two teaspoons of sugar and contains no calories or fat. Using one packet in your morning coffee can help make it drinkable (black coffee is NOT drinkable, in my opinion) without the extra calories.
Remember using Pure Via® to sweeten your coffee or baked goods does not mean you can go crazy! Indulge in baked goods in moderation to maintain the progress you made at the gym!
Not only can Pure Via® can be used in coffee, tea, you can use it to replace sugar in many of your favorite recipes. This blood orange iced tea recipe looks great for summer! I've actually never heard of orange juice and tea before, lemonade and tea – yes, but orange juice and tea sounds delicious on a hot summer day.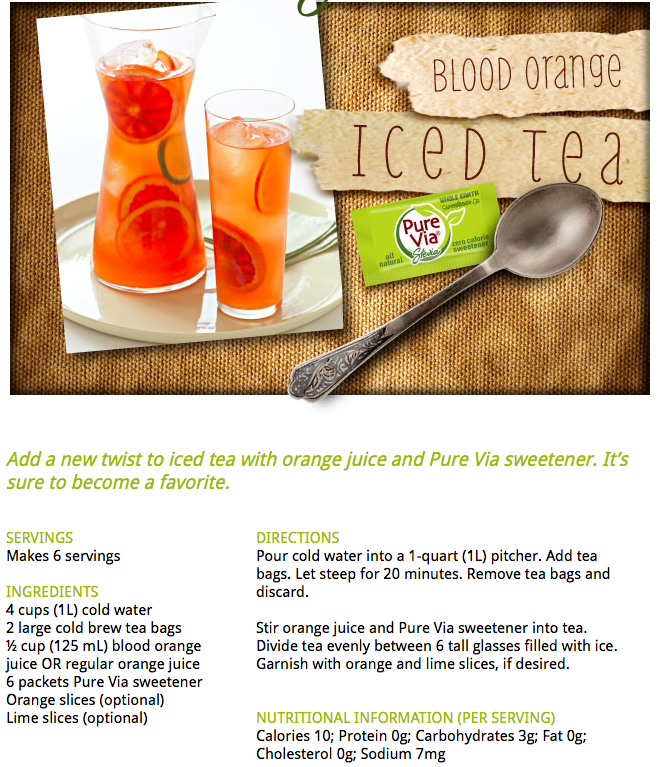 If you haven't tried Pure Via® I have a prize pack for one lucky reader! To enter just leave a comment sharing how you would use Pure Via®.
Don't forget to connect with Pure Via® on Facebook  and Twitter.
This post is in partnership with Pure Via®, all opinions are my own.