Love the taste of Starbucks hot chocolate but don't want to pay Starbucks prices? Make your own delicious Starbucks hot chocolate at home with this copy cat recipe.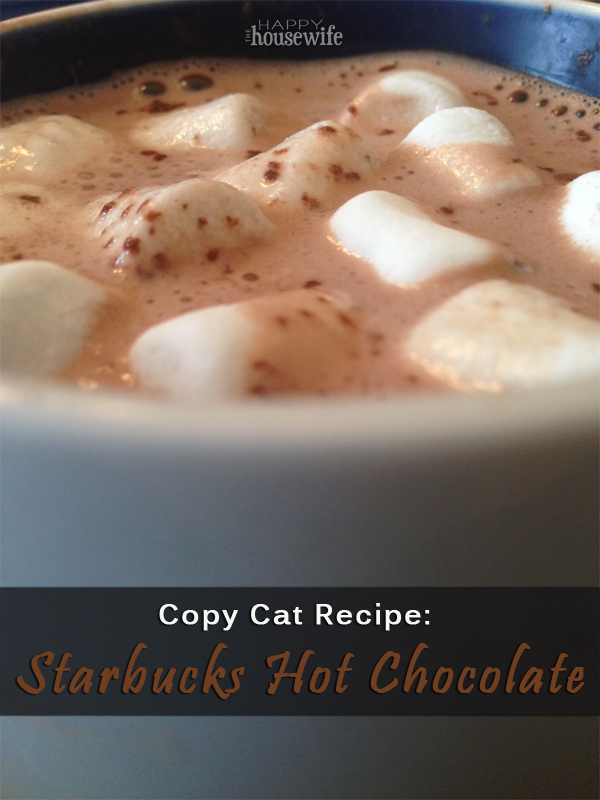 Print
Starbucks Hot Chocolate Recipe
Yield 1 cup
Ingredients
2 tbsp sugar
1/4 cup water
whipped cream or marshmallows
1 1/2 c milk
2 tbsp cocoa
1 tsp vanilla extract
Instructions
In a 2 cup microwave safe glass mix 1/4 cup boiling water, 2 tbsp sugar, and 2 tbsp cocoa.
When the mixture has reached the consistency of chocolate syrup add 1 1/2 cups milk and 1 tsp vanilla.
Depending on the temperature of your drink you may need to heat in the microwave for about 30 seconds.
Top with whipped cream of mini marshmallows.
Nutrition Facts
Serving Size 1 cup
Amount Per Serving
% Daily Value
* Percent Daily Values are based on a 2,000 calorie diet. Your daily values may be higher or lower depending on your calorie needs.