Last week Pepperidge Farm challenged us to think of ways to make dinner at home special. You had some great ideas and I've already implemented several of them, much to my family's delight.
You don't need a lot of time or money to make dinners at home go from boring to brilliant. These easy, inexpensive ideas will transform your meals and have your kids begging to stay home for dinner.
Food
When I was a kid we knew we were having company when my mom served rolls for dinner. Warm fresh from the oven rolls were a special treat in my house and I looked forward to the nights they were sitting in a basket on the table. It seems like every restaurant brings a basket of delicious warm bread to the table while you are looking over the menu. If you want to make your dinners at home seem like dinners out, serve a basket of warm rolls with dinner. (I almost didn't get this photo because my kids were ready to pounce on these delicious rolls!)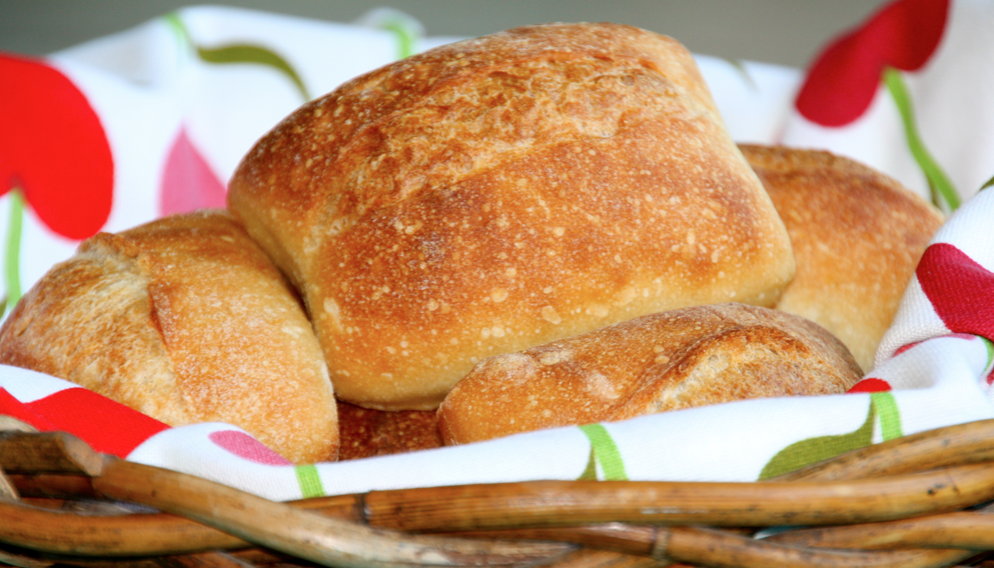 If you are strapped for time in the kitchen (extra curricular activities, work, homework, spending time outdoors in the spring weather) you can still have fresh from the oven bread in about ten minutes when you serve Pepperidge Farm Artisan Rolls. Make it extra special by taking them off the cookie sheet and serving them in a pretty basket lined with a cloth napkin or dish towel. Another way to dress up your dinner is to serve butter (the real stuff) with your rolls. What kid doesn't like to butter a roll, and what adult doesn't love butter?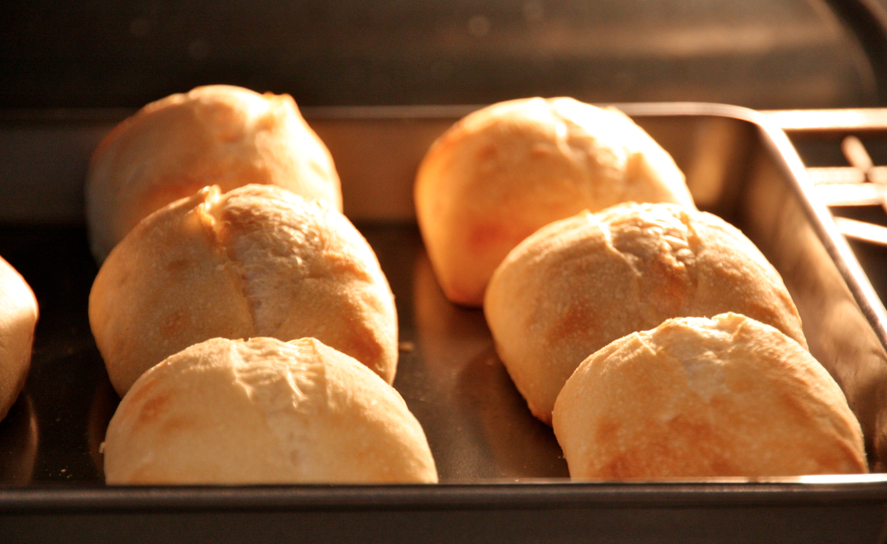 Serving Dishes
I admitted last week I'm a serve it in the pan sort of gal. For a long time I didn't have any serving dishes, but I've been stocking up on clearance items and grabbing some great deals at yard sales.
This beautiful glass bowl was only $0.50 at a yard sale in my neighborhood! When I fill it with a green or fruit salad it looks like I spent hours making it even if I dumped it out of the bag!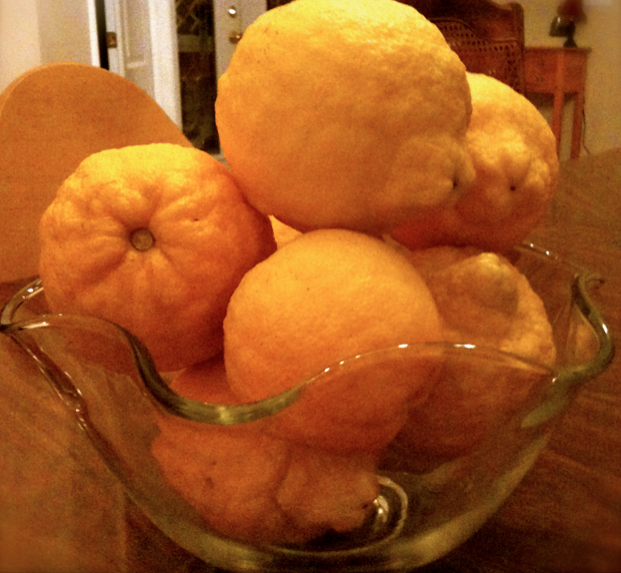 Snacks as simple as chips look better in a nice bowl instead of served out of the bag.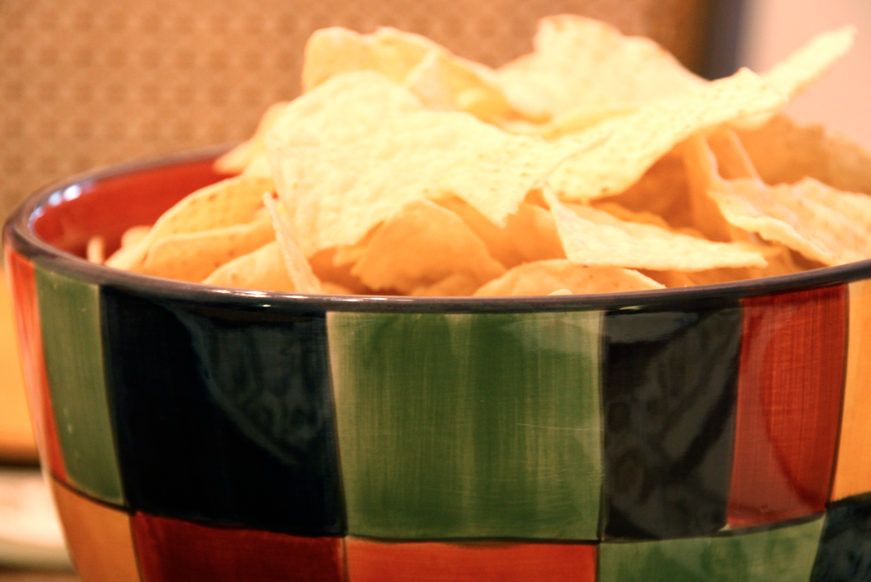 To make dinnertime special resist the urge to serve your meal directly out of the crock pot. Putting it on a nice serving tray really makes a big difference and it's only one extra dish to wash! (The serving tray was under $4 at Target after Thanksgiving one year)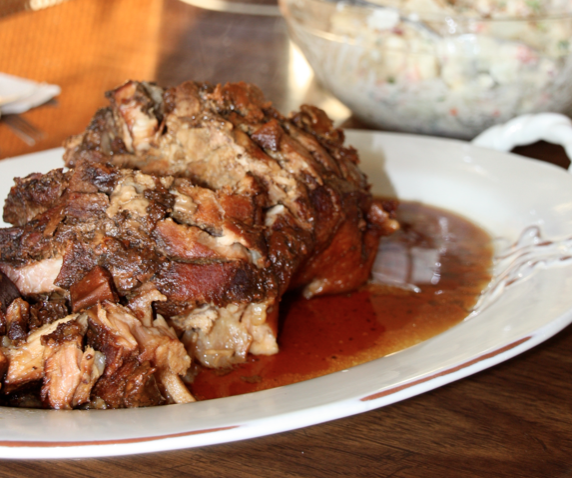 Doesn't that BBQ crock pot pork look delicious? It doesn't look nearly that good in the crock pot.
Candles
Candles are so inexpensive and who doesn't love dining by candlelight. In my house we only light candles when they are on a birthday cake, so when I brought out my candle collection at dinner the other night my kids were thrilled! It is amazing how much the simple (and very inexpensive) act of lighting a few candles at dinner transforms a regular meal into a special occasion.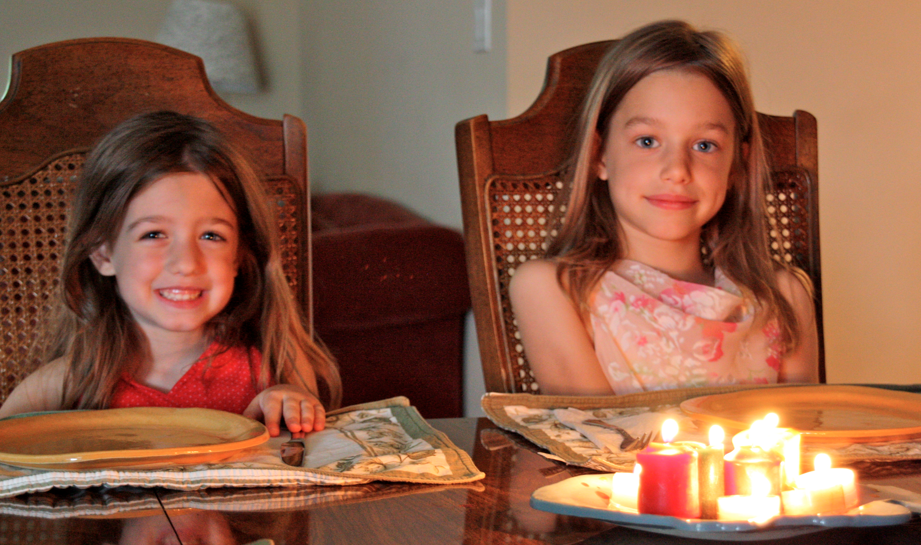 For those of you who are concerned about candles and kids, one of my readers had a fabulous idea. Use votives and tea lights to get the candle experience without the wobbliness of candlesticks. I arranged several shorter candles on a fancy dish and my kids thought we were having a party!
Your Ideas
You had some great tips for making dinners at home special, and with so much economic uncertainty a few date nights at home is probably a good thing!
Lindsay: My grandma insisted that a linen table cloth makes the table. She also ALWAYS used her nice dishes and stemware even for water. She believed that presentation and atmosphere can make every night feel special.
Jodie: I also try to do the "full meal experience" with an appetizer and dessert. I will pour our drinks into goblets, play some music softly, and fold the cloth napkins fancy.
Food on the Table: We deck the table out in our finest linens and fanciest plates. The number 1 thing that takes our dinners to the next tier is simple: napkin folding.
Elaine: It doesn't have to be gourmet, a simple plate of pasta will do, splurge on some good Parmesan and TAKE YOUR TIME.
Dana: We've switched to using cloth napkins found at various thrift store rather than paper towels just to save money.
Adrienne: Your post inspired me to get another table runner for our "new" antique farmhouse table.
Christin: Lately I've been involving my children in the "One Thousand Gifts" dare at meal times, asking them to name 2 things they are thankful for.
Celia: I now have my great-grandmother's china, my grandma's china, and my own china from wedding gifts. I use it regularly, because even when we have mac 'n cheese it's a special night eating together.
Theresa: My favorite thing to do to make a dinner "special" is to have a basket of warm bread, candles and cloth napkins on the table (we do the cloth napkins anyway because I'm cheap).
Thanks for sharing your tips to make dinners at home special! Remember it doesn't have to take a lot of time or money to make these small changes to start implementing them tonight!
I was provided a stipend for my time and materials invested in the Pepperidge Farm® Stone Baked Artisan Rolls tip challenge.