The following is a guest post by my friend Liz who blogs at Hoosier Homemade. Liz is a Hoosier Momma, wife, and mom of three boys.  She blogs about cooking, baking, decorating, frugal living, organizing, sewing, crafting and life in Northwest Indiana. In a small world blogging twist, Liz just happens to live about 10 minutes from most of my extended family, but we met on Twitter!
Mega Pasta Salad
Do you ever get tired of the same ole' pasta salad with Italian dressing? I had been wanting to try a different pasta salad, and our Labor Day get-together was the perfect time.
It turned out very tasty and I was able to use up quite a lot of leftovers in my frig..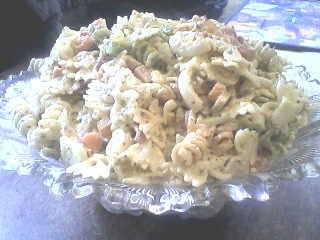 Now, I'm calling it Mega, because the batch that I made turned out to almost fill my 32 cup stainless steel Pampered Chef bowl, as you can see here.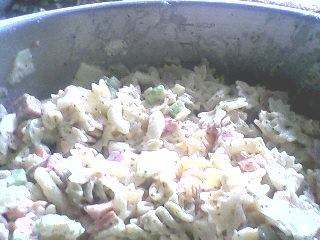 Here is what I put in, and I'm sorry I don't have measurements on this one.
1 box of tri-color rotini
1 box of mini farfalle (bow ties)
3-4 handfuls of elbow macaroni
1 large tomato, chopped
1 large green pepper, chopped
some mushrooms, sliced
some carrots, chopped
some celery, chopped
some ham, cubed, small
some pepperoni, cut into quarters
1 block of colby cheese, cut into cubes
1 small zucchini
The dressing was a bit of an experiment too…
Miracle Whip
Ranch Dressing
Italian Dressing (just a splash for flavor)
Poppy Seeds (a handful)
Celery Seeds (a good amount)
Accent Salt (a little)
Oregano (a little)
Basil (a little)
Whisk and fold into cooked pasta.
Cooks note: Be sure to rinse the pasta in cold water and let it cool down a bit. I got in a hurry and added it hot and the cheese melted some. We kind of liked it that way, but you may not.
Here is a close up picture to make you even more hungry