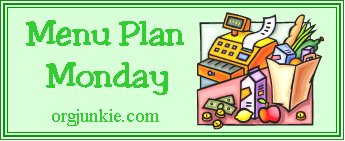 I returned from my vacation with a carload of food! Since we were the only family driving home (not flying) we were given all the leftover food from the weekend. So I am creating my menu around all of the free food we were given in order to use it up and keep my grocery bill low this week. Since I met my February grocery goal, I decided to make a March grocery goal too. My goal for March is $575 dollars. I will keep a running total in my sidebar for anyone who is interested.
Anyway, here is my menu plan for this week. Free food is in italics.
Breakfasts- cereal, pancakes, eggs, french toast, oatmeal
Lunch- leftover free food, sandwiches, muffins, smoothies
Dinner
Monday- pork loin, mashed potatoes, broccoli, apple crisp
Tuesday-cheesy chicken and broccoli casserole, salad
Wednesday- spaghetti, french bread
Thursday- Leftovers
Friday- Pizza
Saturday- Chicken Cordon Bleu, veggies, rice, bread
Thank goodness last month we ate out of our pantry and fridge or we wouldn't have had room for any of this food!
free food