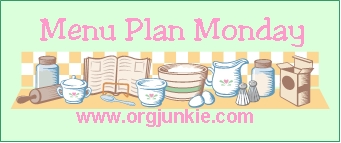 Freedom!
This is my first week since starting Menu Plan Monday that I have not had to plan meals around what is in my pantry or fridge. I am thankful, of course, for our free food and also for the stockpile we had in the pantry because it allowed me to cut $300 off our grocery bill last month. Now my pantry is empty and my fridge is bare, and I get to menu plan from scratch. The only problem… I have no idea what to make!
I'll start with breakfast and lunch since they stay the same.
Breakfasts– pancakes, waffles, French toast, oatmeal, cold cereal
Lunches– sandwiches, muffins, fruit, veggies, cheese & crackers
Dinner-
Monday- Dinner out for the birthday boy
Tuesday- bow-tie pasta with asiago cream sauce, blackened scallops, salad, french bread
Wednesday- salisbury steak, egg noodles, corn, sweet potatoes
Thursday- Roast, mashed potatoes, green beans, whole wheat bread
Friday- homemade pizza with whole wheat crust
Saturday- shredded beef and bean burritos, rice
Sunday- Spaghetti, salad, French bread
The Happy Housewife
Tired of chasing meals? Check out Menu Plan Monday for great ideas on what to have for dinner.