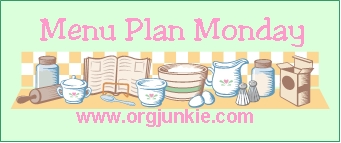 This week I am planning quick and easy meals. My husband is having surgery so I need meals that can be made by teenagers. My goal this week is to make several loaves of bread, muffins, and bagels, on Monday, for the kids to have throughout the week.
Breakfasts
pancakes, waffles, French toast, oatmeal, cold cereal
Lunches
sandwiches, muffins, fruit, veggies, cheese & crackers
Dinner
Monday- shredded beef and bean burritos, rice (didn't get to this last week)
Tuesday – bow-tie pasta w/ tomato cream sauce, salad, french bread
Wednesday- shepherd's pie
Thursday- pizza

Friday- soup and grilled cheese (any ideas for soup, I am leaning towards potato)

Saturday- waffles, eggs, bacon, fruit (does anyone else do breakfast for dinner?)
Sunday- tacos (okay, I am a total idiot… after looking over several other bloggers menus I wondered… why is everyone having ham on Sunday… can I be that dumb, how did I forget Easter??? I think I will stick with the tacos… our family likes to be different, lol)
The Happy Housewife
Tired of chasing meals? Check out Menu Plan Monday for great ideas on what to have for dinner.