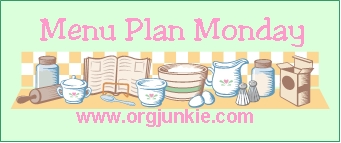 This is another week of quick, easy and healthy meals. My husband's surgery went well, but he is in bed most of the day and I am trying to fix him healthy meals to help him heal quickly. I have started my weekly bread baking routine and it is going great. I plan to bake all our bread for the week on Monday. I am also very excited because we will be going out of town this weekend!
Update: I will try and get some more of the recipes on the blog today…
Breakfasts
pancakes, waffles, French toast, oatmeal, cold cereal
Lunches
sandwiches, muffins, fruit, veggies, cheese & crackers
Dinner
Monday- potato soup, fresh bread, veggies (to be determined)
Tuesday – salmon turnovers (recipe below), carrots, peas, salad, applesauce
Wednesday– bean tacos, corn, rice
Thursday- mac and cheese with veggies for the kids, dinner out for grown-ups

Friday- whole wheat pizza
Here are some super foods I plan on fixing for my husband this week. Blueberry w/w pancakes, sweet potatoes, whole grain muffins, spinach salad, beans and rice, smoothies.
Tired of chasing meals? Check out Menu Plan Monday for great ideas on what to have for dinner.
Salmon Turnovers- (makes 8 turnovers)
Ingredients:
2 cans boneless salmon
6 oz cream cheese
1 bunch green onion chopped
1 celery stalk chopped
2 tubes crescent rolls ( I use the low fat kind)
Leave out cream cheese to soften
Cook onions and celery in about a tablespoon of butter on the stove top for 3 to 5 minutes
Mix together cooked onions, celery, cream cheese and salmon (drained)
Take the crescent rolls and put two together to make a square, put a scoop (about 1/3 cup) of the mixture in the center of the square, then fold up the corners towards the center.
Bake for about 10 to 15 minutes in a 375 degree oven.
This a great recipe for a quick meal. It takes about 30 minutes from start to finish, and is easy enough for a kid to make.