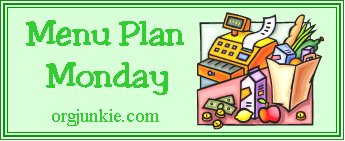 Ahhh! I am so behind this week already. We went over to some friend's house after church (at noon) and didn't get home until 9pm! Usually I do my weekly planning on Sunday nights, so I am trying to catch up this morning.
Anyway here is my thrown together menu for the week…
Breakfast–
rotating pancakes, waffles, french toast, oatmeal, cold cereal
Lunch–
rotating leftovers or sandwiches
Dinner-
Monday- Steak, rice, veggies (didn't get to it last week)
Tuesday- Spaghetti, french bread
Wednesday-Tortellini casserole
Thursday- Shepard's pie
Friday-Pizza
We are still trying to eat from the
pantry
which is why the meals are a bit dull. After this week my pantry will be almost empty except for the evaporated milk and 5 bags of powdered sugar.
Have a great week!