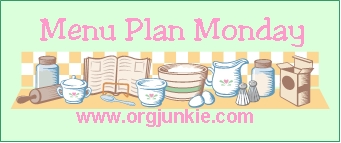 This week my kids are testing at the church. I need meals that are quick, cheap, and yummy. Some of the recipes this week come from the cookbook, Cheap. Fast. Good!
For those who read my menu last week, I ended up not purchasing the veggie dogs and going with the all beef hotdogs. I had a coupon, so I couldn't resist. I do plan on purchasing the veggie dogs soon, although I would love to just quit buying hotdogs altogether. I will also post my blackened scallop recipe later this week.
Breakfasts
pancakes, waffles, French toast, oatmeal, cold cereal
Lunches
sandwiches, muffins, fruit, veggies, cheese & crackers
Dinner
Monday- Leftovers (need to clean out the fridge before I head to the store)
Tuesday – Salmon Cake Sandwiches pg 252 of Cheap. Fast. Good!
, corn, fresh fruit
Wednesday- Bean burritos and tacos
Thursday- Oven Fried Drumsticks pg 101 of Cheap. Fast. Good!
, rice, broccoli, carrots
Friday- Pizza
Tired of chasing meals? Check out Menu Plan Monday for great ideas on what to have for dinner.