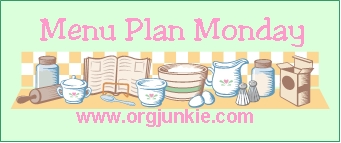 Last week was crazy with testing. Our meals were all mixed up and we had people over for dinner so I made an extra trip to the store. I also didn't get around to posting the blackened scallop recipe until today. You can view it here. If you don't read my blog regularly, I have recently given up soda (and all caffeine) and am trying to eat healthier, whole foods. This menu will try and incorporate some healthier choices. If you are interested in a little internet accountability to eat more fruits and veggies head on over to Heavenly Homemakers for the fruit and veggie challenge.
Breakfasts
pancakes, waffles, French toast, bagels, oatmeal, cold cereal
Lunches
sandwiches, muffins, fruit, veggies, cheese & crackers, smoothies, salads for me!
Dinner
Monday – Salmon Cake Sandwiches pg 252 of Cheap. Fast. Good!
, corn, fresh fruit ( I didn't get to this last week). Today is also my baking day, so I will be baking all of our carbs for the week.
Tuesday- Mexican Lasagna, cornbread
Wednesday- Steak and wild rice with mixed veggies
Thursday- Baked Chicken legs (these where such a huge hit last week we are making them again), mashed potatoes, sweet potatoes, green beans, bread
Friday- Nachos (I realize this is not a healthy meal, but we try to have a Friday fun night once in a while)
Tired of chasing meals? Check out Menu Plan Monday for great ideas on what to have for dinner.