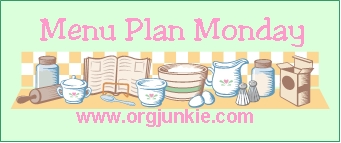 This week we were supposed to go camping. We had to cancel because we still have sick kids and my husband had some things come up at work, so he is unable to leave town this week. I am disappointed because I love camping food, but the menu must go on. I am still sticking to my grocery budget and my pledge to eat healthier, so most of these meals are low cost and moderately healthy.
For those of you who are not yet menu planning, I encourage you to start today. If planning meals for each day of the week is intimidating, how about making a skeleton menu with meals you would like to serve this week and then pick the day as you go along. Meal planning is one of the easiest ways to save money on your grocery bill. You buy what you need and you eat what you buy.
Breakfasts
pancakes, waffles, French toast, bagels, oatmeal, cereal
Lunches
sandwiches, muffins, fruit, veggies, cheese & crackers, smoothies, salads for me
Dinner
Monday– Homemade Pizza with whole wheat crust
Tuesday– Blackened chicken pasta, whole wheat French bread, salad
Wednesday– Ground turkey tacos, cornbread
Thursday– Chicken Tetrazzini with broccoli (This recipe is from Menu in a Box, a hundred day meal planning kit. You can read my review here.)
Friday– Salmon cake sandwiches (recipe below) with whole wheat rolls, the best potato salad ever, fruit, carrot sticks
Saturday– I wish I were camping food, hot dogs, hamburgers, baked beans, chips and s'mores.
Tired of chasing meals? Check out Menu Plan Monday for great ideas on what to have for dinner.
Salmon Cake Sandwiches (makes 8)
Two cans boneless, skinless salmon, drained
3/4 cup chopped onion
3 eggs
1/2 cup mayonnaise (you can use low fat)
4 teasp Worcestershire sauce
1/2 teasp black pepper
1 teasp salt
I beat the eggs first, then take all the ingredients and mix together in a bowl. You might need to adjust the amount of bread crumbs a little to make sure you can form the patties.
Form the mixture into eight patties (similar to hamburgers)
On medium heat coat a frying pan with vegetable oil, then melt 2 tablespoons of butter in the pan.
Fry your salmon patties for about 4 minutes on each side until they are a beautiful golden color.
Set on a paper towel to blot any extra oil.
Serve on a bun with your choice of toppings. We like lettuce and mayo at our house.
I would post a picture but they were so good they didn't last long enough to find the camera!