With my  30 Days of Meals, planning for Blissdom has been easy. I will be in Nashville from Thursday to Saturday, but meals are already frozen and ready for my family to heat without me. If you are like me most of your extended times away from your family involve giving birth. One way to bless your family on the rare occasion that you are away is to leave meals for them.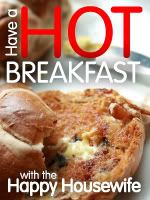 This week starts the Hot Breakfast Challenge. February is National Hot Breakfast month and I am challenging my readers to give up cold cereal for this month. I hope to post many recipes, feature some guest bloggers, and put up a Mr. Linky each Wednesday for you to share your favorite breakfast recipe. We eat a lot of pancakes around here so please share your breakfast ideas with me!
Breakfasts- Pancakes, Biscuits, Oatmeal, French Toast, Cinnamon Rolls
Lunches- Sandwiches, Muffins, Smoothies, Cheese and Crackers, Fruit, Veggies
Dinners
Turkey Tacos
Salmon Turnovers, broccoli, salad, fruit
Chicken Pot Pie, salad, fruit (in the freezer)
Shepherd's Pie, fruit, whole wheat rolls (in the freezer)
Whole Wheat Pizza, salad
Baked Ziti, salad, bread (in the freezer)
Here is my 30 Days of Meals list. The meals that are crossed off are ones we have already made for this 30 day period. I won't cross off this weeks meals until I actually make them.
30 Days of Meals
For almost 500 menu plans each week visit Org Junkie.