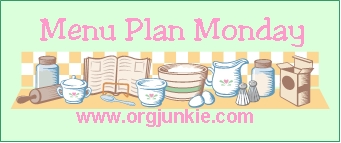 This is a week of fast, easy or already prepared meals. My kids are in a play this week so most of our nights will be packed with activities. Normally we have more laid back evenings so this is a switch for us.
Breakfasts
pancakes, waffles, French toast, bagels, oatmeal, cereal
Lunches
sandwiches, muffins, fruit, veggies, cheese & crackers, smoothies, salads for me
Dinner
Monday– Chicken Tetrazzini with broccoli (This recipe is from Menu in a Box, a hundred day meal planning kit. You can read my review here.)
Tuesday – Chicken Pot Pie (recipe below) I made this on Saturday and put it in the freezer for my husband to heat up for dinner since my daughter and I will be gone.
Wednesday – Pizza (cast party for the play)
Thursday – Pizza (homemade whole wheat crust) My husband and I will be eating with friends before our bible study.
Friday- Tacos (this is the night of the play)

Saturday- Everything that is left in the fridge. We will be going out of town so we don't want to leave anything to spoil.
Tired of chasing meals? Check out Menu Plan Monday for great ideas on what to have for dinner.
Ever wonder how larger families manage to feed healthy, delicious meals that don't break their budget yet you can't seem to? Then check out 3 Moms ~ 3 Kitchens ~ 31 Days. Joy, Kate and myself are running a series of posts of what we do in the kitchen each day. Menu plans, shopping trips, recipes, failures, it is all there.
Easy Chicken Pot Pie (makes 2 pies)
3 cooked and cut up chicken breasts
8 peeled, diced, and cooked potatoes (you can use two cans of diced potatoes)
2 cans cream of chicken soup
1/2 cup onion chopped
1 bag frozen vegetables
Seasonings
Pie crust for two pies ( you can make your own, or read my recipe here)
If you are boiling your own potatoes, dice your potatoes and boil them until they are soft but not mushy.
While the potatoes are boiling cut up your chicken and onions. Mix chicken, onions, cream soup, frozen vegetables and seasonings ( I use garlic, salt, and pepper).
Drain the potatoes (save the potato water for bread) and add to the mixture.
I forgot to take a picture of the mix with the cream soup.
Make your pie crusts and then fill your pie.
Can you believe I forgot to take a picture of the finished pie! I wrapped them in foil and put them in the freezer for our dinner next week! I will have my husband get a picture when they have dinner on Tuesday.
Bake the pie in a 400 degree oven, for 30 to 40 minutes until the crust looks done.
Here is a trick to transferring your pie crust from counter top to pie plate. Fold your crust in half, then lift it into the pan.