My husband started grocery shopping last week. I must say he did a pretty good job. He spent more than I usually do, but he did get everything on my list and used a few coupons. He will continue to shop for the next month or so while the boys are in soccer. I am sure the more he shops the better he will get at finding the best deals.
My breakfasts and lunches are staying the same, basically because it is easy to make the same thing every week. The kids know what to expect and they like routine.
This week Org Junkie is asking us to submit family recipes. Shepherd's pie is my kids' favorite meal. Usually a 9×13 pan does not even feed the six kids.
If my menu looks a little repetitive this week that is because it is, why mess with something that is working!
Monday
Breakfast – Pancakes
Lunch- Sandwiches, Fruit
Dinner- Spaghetti, Bread sticks, salad
Tuesday
Breakfast – Oatmeal/ Cereal
Lunch- Sandwiches, Fruit
Dinner- chicken legs (recipe below), rice, broccoli, corn

Wednesday
Breakfast – Waffles
Lunch – Smoothies, crackers, cheese, peanut butter
Dinner – Shepherd's Pie (recipe below)
Thursday
Breakfast –French Toast
Lunch – Sandwiches, Fruit
Dinner – Lasagna, garlic bread, salad
Friday
Breakfast- Bagels
Lunch- Sandwiches, Fruit
Dinner- Pizza

For more Menu Plan Monday visit Org Junkie.
Yummy Chicken Legs
Chicken legs
4 Tbs melter butter
Mixed together in a bowl
3/4 cup bread crumbs
1/4 cup parmesan cheese
1 teas paprika
1 teas garlic powder
salt and pepper to your liking
Remove skin from chicken legs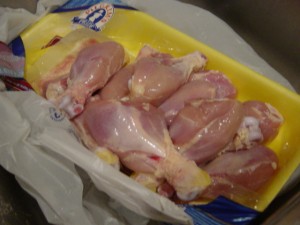 Melt butter/ then dip the chicken legs in the melted butter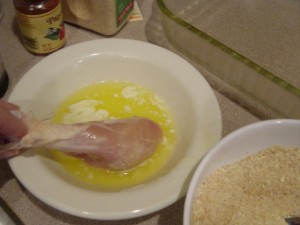 Then roll the legs in the bread crumb mixture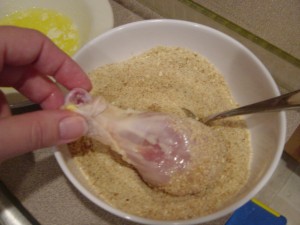 Baked in a greased pan for an hour @ 350 degrees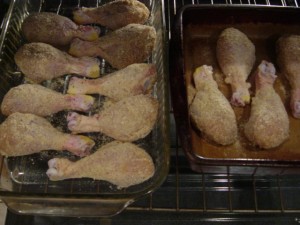 These are delicious and a huge hit with the kids.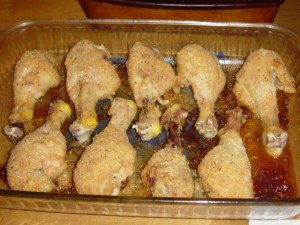 Shepherd's Pie
Ingredients
2 lbs ground turkey

1/2 cup chopped onion
Garlic powder
1 can cream of potato soup
1 small bag frozen corn
Mashed potatoes (enough to cover a 9 x 13 pan)
Grated Cheese (cheddar, colby, jack… your choice)
Brown turkey on stove top, add onions during the last 3 minutes of cooking, I also season with some garlic powder. Mix turkey and onions with the cream soup. Spray a 9 x 13 pan with nonstick, then spread the turkey mixture in the bottom of the pan. Then layer the corn on top of the turkey, finally spread the mashed potatoes on top of the corn. Bake covered for about 25 minutes @ 350 degrees. During the last 5 minutes of cooking uncover the casserole and sprinkle with grated cheese.