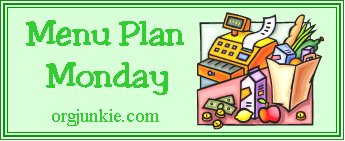 Woo-hoo… February is almost over and with the end of February comes the end of my pantry challenge. I have realized that there is a reason certain things make homes for themselves in my cupboards. It's because we don't like to eat them! This challenge has helped me to realize that I need to shop with a purpose, and not pick up items just because they are on sale, because sometimes we don't like them! So this is my last week of pantry meals… hopefully, next week my menu will be filled with exotic dishes that take hours to prepare something other than pasta and tacos.
We will be out of town after Wednesday so it is a short menu week again…
Monday
Breakfast- Pancakes
Lunch – Sandwiches, fruit, veggies
Dinner – Tacos
Tuesday
Breakfast- Oatmeal
Lunch- Muffins, cheese, fruit, veggies
Dinner- Pasta, salad, whole wheat french bread
Wednesday
Breakfast- Cereal
Lunch- Sandwiches, fruit, veggies
Dinner- Everything that is still in our fridge…
I am hoping that with this menu I will only need to go to the store for milk, bread, and snacks for the trip. That should keep me way below my $600 grocery goal for this month.