As busy moms and dads, we still want to be able to feed our families healthy, quality meals that are preferably cooked at home without taking all day.  That's why I like to bring you helpful resources like Menu Planning Central, who is having their annual half-off sale right now through April 16th!  It's a great opportunity to try their program and see if it helps you feed your family on a time and money budget that works for you.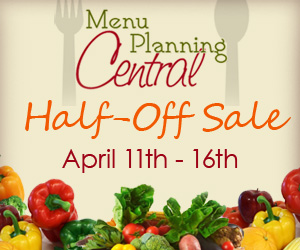 Inside Menu Planning Central you will find 4 weekly menus for each of the following options:
Family Friendly Menu
Every month we provide 4 weekly menus that everyone in the family is sure to love. Not only do you receive 7 dinner recipes complete with side dishes, but also 2 weekend brunch recipes and 2 dessert recipes. Each menu comes complete with the recipes for each dish and a weekly grocery list.
Healthy Menu
Whether you're watching your weight, are dealing with a health issue that requires you to eat healthy, or just want to feel better, this healthy menu is just what you've been looking for. In our program each month you get 4 weeks worth of healthy dinner ideas along with healthy sides. Of course recipes and weekly grocery lists are included.
Vegetarian Menu
Does your family stick to a vegetarian diet? Then this menu is for you! With 4 weeks worth of vegetarian recipes each and of course a categorized grocery list for each week your veggie family will have very happy tummies!
Frugal Menu
Are you on a tight budget? Our frugal menus help you feed your family for less, as you keep your grocery bill in check. Each month we include 4 weeks worth of frugal menus along with the corresponding grocery lists.
This is a total of 16 weekly menus complete with recipes and shopping lists to make sure your family is fed healthy, home-cooked meals and keep you out of fast food drive-thrus!  Plus, they offer custom menus for dietary restrictions due to allergies or just personal taste or because you want 3 slow cooker meals each week.
During this week's annual half off sale, both monthly and lifetime memberships will be 50% off!  Monthly memberships will be only $9.97 each and a lifetime membership is only $99.97 – perfect if you think you'll use this regularly!  When you sign up, you'll also receive the following for free as part of your membership:
Kid Approved Meals: 13 weeks worth of delicious and fast recipes for lunch and breakfast dishes including grocery lists
The Smart Mom Library: 9 eBooks that help you be healthier, save time, and save money with The Health Kit, The Saving Time Kit, and The Saving Money Kit (3 books each)
Check out Menu Planning Central today and see if it's a good fit for your family!