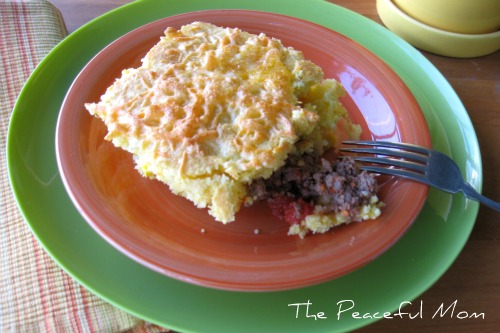 By contributing writer Kimberlee.
Need an easy dinner meal? Try this delicious Mexi-Cali Cornbread Casserole! It's so good that my teenage son even said,"Mmm, Mom, this is good." 🙂
Print
Mexi-Cali Cornbread Casserole
Ingredients
1 1/2 pounds ground beef
1 medium onion
2 tablespoons olive oil
28 ounce can diced tomatoes
4 ounce can diced green chilis
1 teaspoon garlic salt
2 teaspoons chili powder
3 boxes Jiffy cornbread mix (or equivalent homemade mix)
2 eggs
1 cup milk (or 2/3 cups milk + 1/3 cup water)
1 cup frozen corn kernels
1 cup + 1/3 cup shredded cheddar or Mexican blend cheese
Instructions
In a large skillet, saute onions in olive oil until almost translucent.
Add ground beef, stirring and cooking until well browned.
Add tomatoes, chilis, garlic salt and chili powder and stir to combine.
In a large mixing bowl, combine eggs and milk. Add the Jiffy cornbread mix and stir to combine.
Add corn kernels and 1 cup shredded cheese. Stir well to incorporate all ingredients.
Spoon ground beef mixture into an 11 x 17 inch glass baking dish. Dollop cornbread mixture on top and spread to cover.
Bake at 400 degrees for 20 minutes.
Sprinkle remaining 1/4 cup cheese on top and bake for another 10 minutes or until cornbread is cooked and cheese is lightly browned. Serve immediately.
Courses Main Dish
You can find more delicious meal ideas at the The Happy Housewife Recipe Index.