Think waffles are only for breakfast? Think again! Waffles make a great snack for any time of day. When I started to get fit I ate the Eggo Nutrigrain waffles for a quick snack or breakfast when I was short on time.This week I'm going to be sharing some of my favorite waffle recipes with you.These mini waffle breakfast sandwiches are so good! They not only make a great protein packed breakfast, but a delicious lunch or after school treat. They are easy to make and your kids will love them! The mini Eggo waffles make them the perfect kid sized snack!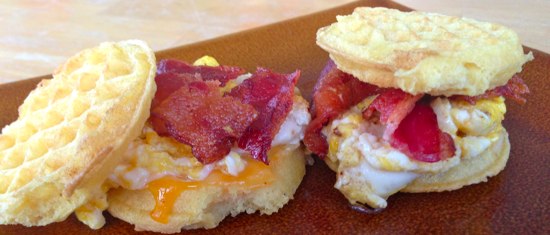 Print
Mini Waffle Breakfast Sandwiches
Yield 1 serving
Ingredients
4 Eggo mini waffles (per serving)
1 egg
1 piece of bacon
1/2 slice cheese (I used cheddar jack)
Instructions
Cook the bacon.
Toast the waffles.
While the waffles are toasting fry the egg.
On two of the waffles layer cheese, egg, and bacon.
Top with the other waffles.
Serve.
Nutrition Facts
Serving Size 2 sandwiches
Amount Per Serving
% Daily Value
* Percent Daily Values are based on a 2,000 calorie diet. Your daily values may be higher or lower depending on your calorie needs.
Do you have a great waffle recipe? Head over to the Eggo Facebook page and enter your recipe creation in The Great Eggo Waffle Off!
Enter to win a fun Eggo prize pack by leaving a comment sharing your favorite way to serve waffles. Giveaway ends April 5, 2013. Official contest rules can be found here.