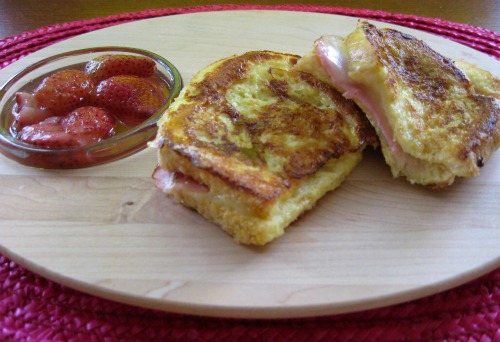 The following is a post from contributing writer  Kimberlee.
Need an easy but impressive recipe for a family breakfast or Sunday brunch? Try this delicious Monte Cristo Sandwich.
Print
Monte Cristo Sandwich
Ingredients
4 eggs, beaten
1/2 cup milk
8 thick slices Italian bread or other thick sliced white bread
3 tablespoons grape jelly
4 thin slices deli ham
4 thin slices Swiss Cheese
4 tablespoons butter
Instructions
Combine beaten eggs and milk in a large bowl, mixing well.
For each sandwich, spread a thin layer of grape jelly on one slice of bread.
Top bread with 1 slice ham and 1 slice cheese.
Add second slice of bread to top of sandwich and cut in half.
Heat a skillet on medium heat.
Melt 1 tablespoon butter in the skillet, turning the pan to coat the surface entirely.
Dip each sandwich half quickly into the egg mixture and place it in the heated skillet.
Cook for about 1 minute or until bread is golden brown and cheese is melted.
Flip sandwich over to brown second side.
Continue with remaining sandwiches.
Serve immediately.
Nutrition Facts
Serving Size 4 breakfast sandwiches
Amount Per Serving
% Daily Value
* Percent Daily Values are based on a 2,000 calorie diet. Your daily values may be higher or lower depending on your calorie needs.
These would be great with a fresh fruit salad!
Find more delicious meal ideas at the The Happy Housewife Recipe Index.