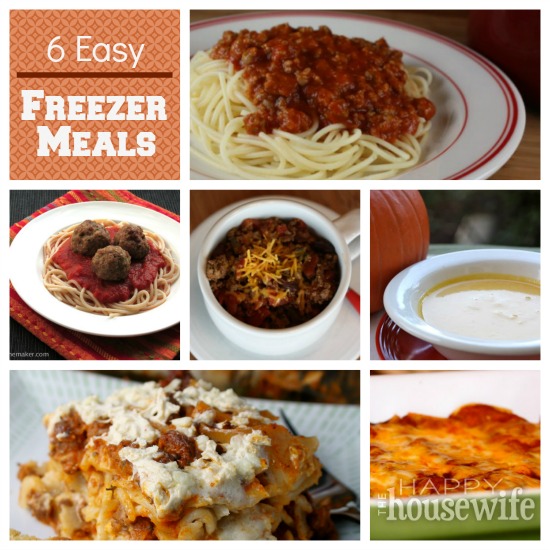 By contributing writer Lynn
Last time I shared five of my favorite easy freezer meals.  Today I am sharing six more basic meal ideas that are freezer friendly. These are basic everyday meals that you probably eat all the time, but may never have thought to freeze.
Spaghetti Sauce
I know many of you may buy jars of pasta sauce, but homemade spaghetti sauce is so much better and is perfect for the freezer. Make a large batch, freeze in small containers, and use as needed.
Meatballs
Homemade meatballs are another easy freezer item. Make a large batch of your favorite recipe and keep them in the freezer. Use them with pasta sauce or cooked in your favorite bbq sauce for a simple meal. I like to cook my meatballs before freezing them, but you can also freeze and then cook them.
Chili
Your favorite chili recipe is perfect for the freezer. Make a double or triple batch and freeze in small portions. This works well for dinner, but can also be served in lunch sized portions as well.
Soup
Soup also freezes well. I avoid soups with rice or pasta because they tend to absorb a lot of the liquid, but otherwise I have found most soups freeze really well. Soup also works well frozen in lunch sized portions. This curried pumpkin soup is perfect for fall!
Lasagna
Who doesn't love lasagna? And yes you can buy frozen lasagna at your local grocery store, but it is much cheaper and much more delicious when it is homemade. While you're making your favorite homemade lasagnas, simply double the recipe and freeze the second one for an easy weeknight meal. And if you don't want or need a large lasagna for dinner, try making and freezing it in a loaf pan. It works great in smaller portions like that.
Enchiladas
Enchiladas are cheesy and full of sauce and flavor which makes them a perfect freezer choice. Both beef and chicken enchiladas freeze great and make for an easy dinner served with salad or vegetables.
What is your favorite meal to make ahead and freeze? 
Find more delicious meal ideas at the The Happy Housewife Recipe Index.