I mentioned in a previous post that my husband has finally jumped on the heath train. I am so excited because now I can focus on healthy meals for the whole family and get rid of the junk.
My kids have been doing great on their Eat More Fruits and Veggies Challenge. Almost everyone has been willing to try our new foods. We have had a few big losers, blueberries and nectarines, but everything else has been given a thumbs up or at least a thumbs sideways.
Since I have a Vita-Mix I have been experimenting over the past few days to see how much health I can get into their beloved smoothies. Today I created a spinach smoothie and it was a huge hit. They finished it and asked for seconds and thirds. The beet gives it this amazing red color. I will be making it tomorrow and trying to add in even more healthy goodness. The best thing was that they saw me throw all the food in the Vita-Mix and they still tried it. I have to admit, if I was 12 years old and saw my mom putting spinach in my smoothie, you couldn't have paid me to drink it!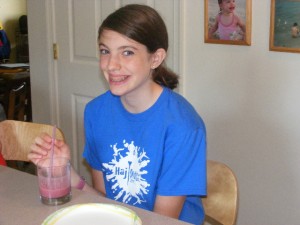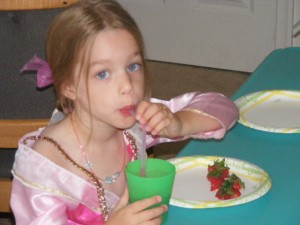 I have noticed a slight change in the kid's behavior since we have started our healthy eating. I hope to see more positive results as we reduce our sugar and white flour and increase our fruits, veggies, and whole grains.