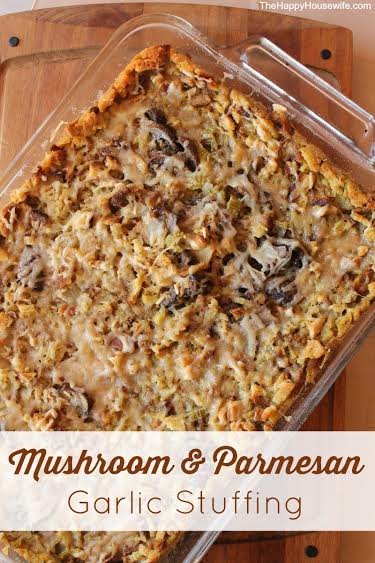 By contributing writer Beth
Stuffing is such a staple of fall festivities that I just love to mess with it. Year after year I can't leave it alone. I add ingredients and replace herbs. I've done boxed and scratch recipes. I really love them all. I love adding meat to the stuffing to make it more hearty, and changing the texture by adding nuts and seeds is one of my favorite ways to surprise guests.
This Mushroom & Parmesan Garlic Stuffing came about because I just don't like dry stuffing. I want it to be moist and tender and hold together on my fork. Parmesan and garlic are a familiar combination, making this dish similar to stuffed mushrooms but without the hassle of actually doing the stuffing part.
I would definitely stick with freshly grated Parmesan because the stuff that they sell in the unrefrigerated store shelf is not going to produce the results you're looking for.
You can use mushrooms besides baby bellas, but I like them because of their consistency and flavor. They don't get too mushy or rubbery, and they add something to the character of the stuffing that white mushrooms would be lacking.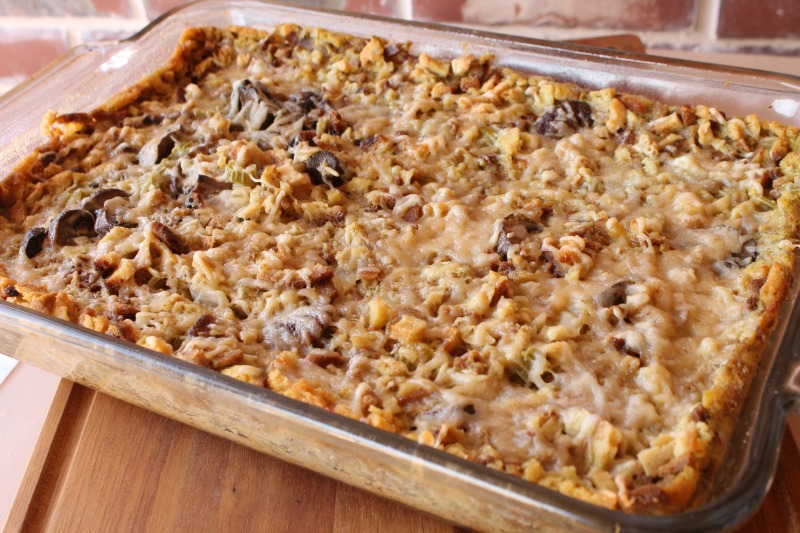 Print
Mushroom and Parmesan Garlic Stuffing
Yield 16
Ingredients
2 (6-ounce) packages stuffing mix, uncooked
1 cup brown rice, uncooked
½ cup butter
1 cup onion, diced
½ cup celery, thinly sliced
3 cloves garlic, minced
8 ounces baby bella mushrooms, sliced
1 cup freshly grated Parmesan cheese
5 1/2 cups water
Instructions
Heat oven to 375 degrees. Spray a 9 x 13 inch pan with nonstick cooking spray.
Spread dry stuffing mix and rice across the bottom of the pan. Don't worry about mixing them because they'll get mixed together later.
In a large sauté pan, add butter, onion, celery, and garlic. Sauté until onions begin to appear translucent. Pour the mixture over the dressing and rice in the baking pan. Sprinkle with Parmesan. Set aside.
Bring water to a boil on stove top. Pour water over contents of baking pan and stir contents gently. Cover immediately with aluminum foil and place pan on middle rack of oven.
Bake at 375 for 1 hour. Take the pan out of the oven and remove the foil.
Sprinkle with Parmesan and place back in the oven. Bake for an additional 10 minutes to melt the cheese.
Remove from the oven and serve warm.
Courses Side Dish
 You might also like…