Hi, my name is The Happy Housewife and I am addicted to watching plants. No one told me that gardening was addictive. All day, every day I enter my "greenhouse" room and check my seedlings. Sometimes I just stare at them in hopes that they will sprout before my eyes. It is amazing. One day we left the house and when we returned 3 more plants had sprouted.
For the past several days we have spent the afternoons/ evenings working at the plot. That is hard work! I use to think I wanted to live in the pioneer days… not any more! Bring me the gas powered tiller! Today I weeded for about an hour, then I gave up and had my 13 year old weed, then I had my husband weed. Then we all gave up because the sun went down. I do love it though, and I love seeing the progress we are making at the plot. I hope we can till tomorrow, because it looks like rain all next week.
Now that I am done with the "tell" part of Show and Tell Friday, here is the "show" part.
My seedlings on Monday night
just dirt, no green….
My seedlings tonight (Thursday)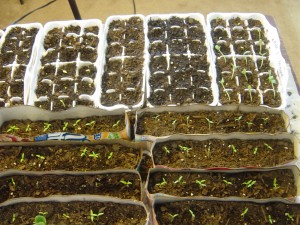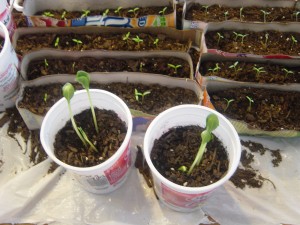 I realized yesterday that over 30 tomato plants sprouted. Spaghetti anyone?
Isn't this exciting… the kids are loving it and I am too. I just hope the happiness lasts all summer!