Last month I was able to visit the J.M. Smucker Company headquarters in Ohio. It was an absolutely amazing experience and I left Ohio feeling like I was part of the Smucker family.
Not only did I spend two days learning how to make pies, ice cream, cookies, coffee, and various other goodies, I also was able to meet several members of the Smucker family.  From the CEO to the folks in the test kitchen every single person I met represented the family values held so dearly by the founder Jerome Smucker.
Over the next several days I'll be sharing with you baking tips, recipes, and even an ice cream tutorial video. But before I share tips I wanted to share with you one of my favorite parts of the trip.
The Smucker's Store
If you are ever near Orrville, Ohio you must visit the Smucker's Store, especially during the Christmas season. It is beautifully decorated and you can find all sorts of great Smucker's products and gifts.
My favorite part of the store was the Christmas trees. Each tree was decorated for a different brand.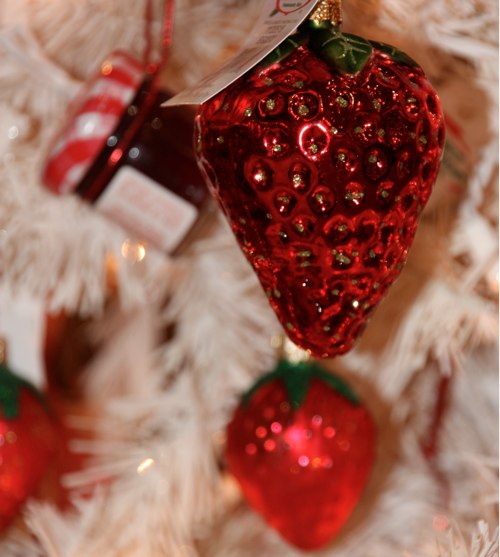 The Jelly Tree
The Peanut Butter Tree
The Pancake Tree
If you can't get to Orrville, Ohio that's okay too! I've got an awesome Smucker's Gift Basket to give away to one reader.
Around the Family Table with Smucker's Gift Basket
Crisco Baking Sticks- Butter
Crisco Extra Virgin Olive Oil
Dunkin' Seasonal- Mocha Mint
Eagle Brand Sweetened Condensed Milk- New Pop-top lid
Folgers Small Red Can
Folgers Stick Pack
Hungry Jack Easy Pack Pancake Mix- Funfetti
Hungry Jack Easy Pack Pancake Mix- Wildberry
Jif Natural Peanut Butter- 18 oz.
Jif-To-Go Creamy- 3/pk
Martha White Blueberry Muffin Mix
Millstone K-Cup- Hazlenut
Natural Peanut Butter Stirrer
Pillsbury Easy Frost- Cream Cheese
Pillsbury Pumpkin Cookie Mix
Smucker's Hot Caramel Topping
Smucker's Natural Creamy Peanut Butter
Smucker's Orange Marmalade
Smucker's Orchard's Finest- Strawberry
Uncrustables Sandwich Keeper
Uncrustables VIP Coupons (2)
White Lily All-Purpose Flour
To enter to win this awesome Around the Family Table gift basket leave a comment telling me your favorite jelly/ jam/ or preserve. Guess what…. I don't like jelly at all- but I love strawberry preserves! Go figure! Giveaway ends December 8, 2011.