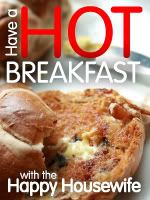 February is National Hot Breakfast Month. Let's pretend this holiday was not invented by Jimmy Dean and talk about benefits of a hot breakfast.
For many years I was the cereal queen. I had more cereal in my cupboards than a small grocery store. I love cereal and if I was single I would probably eat it twice a day. Once I had a lot of kids I realized cereal was not the best option for our family.
First, cereal is expensive. I know many people who purchase cereal for next to nothing, I have too. Many times though that cereal is the "sugary" kind that loads your kids up with artificial colors and lots of sugar first thing in the morning. I have also found that my kids are hungry about 2 hours later after eating this type of cereal. If I am able to purchase a box of cereal for a $1 my kids can and do eat an entire box for breakfast. They also use a gallon of milk. This puts my breakfast cost at about $3.50.
Second, cereal might not be the healthiest option. There are some healthy cereals on the market, and there are unhealthy hot breakfasts (cinnamon rolls comes to mind). But in general, hot breakfasts are a healthier option if prepared correctly.
Hot breakfasts are "greener." Cereals come with excessive packaging and some with cheap toys made in China. Hot breakfasts when made from scratch produce less waste.
Avoiding cereal removes an entire marketing outlet to your children. I have not seen a cereal box that does not promote some toy or idea to children. There are even cereals that are in the shapes of television characters. Removing this from our home is removing a temptation from my children. If they don't see it every morning, they don't want it!
The Challenge
Try giving up cold cereal for one month. Hey February is the shortest month, it won't be so bad, right? In order to help each other, each Wednesday I will put up a Mr. Linky and you can link a breakfast recipe. It doesn't have to be fancy just something your family likes and is relatively easy to prepare. In fact it doesn't even have to be a hot breakfast, the point is to rid ourselves of cold cereal, so if you have a great breakfast smoothie recipe post please share!  I can't wait to discover new recipes so I am not serving my family scrambled eggs every day for a month. The first Mr. Linky will go up February 4th.
For those of you not quite up to the challenge, please link your recipes too. We need all the help we can get!

Hot Breakfasts work for us… what Works for You?
For more Show and Tell visit Mary.